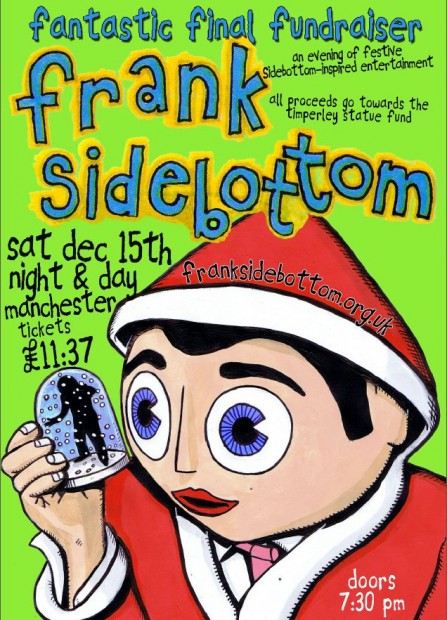 Two successful fundraisers in 2012, one in Manchester and one in London, have lead towards an affordable solution to erecting the Frank Sidebottom Statue in Timperley and the target sum is now within grasp. With a final push to raise the last couple of thousand pounds, friends, family and fans alike are joining forces to throw a party that Frank himself would be proud of.
With Frank's unremitting passion for surrealism and music, this event aims to bring both elements together once again. Live music will be coming from sixties beat-bash-boogaloo funsters The Stags and Frank's long lost elder brother Hank Sidebottom will return with his band The Hell Razors. Chris Sievey's son Harry will not only be performing his own Mask material, but also step in with the original members, Rick Sarko and Barry Spencer of his father's band The Freshies.
Being shown its entirety for only the second time will be the unaired TV pilot show 'Frank's Celebrity Sleepover', which was sadly the last performance Frank committed to film. The show guest stars 'the other two' of the Smiths, Mike Joyce and Andy Rourke.
One of the highlights of the night will be 'Sidebottom's Got Talent', where Frank impersonators will take to the stage to try and impress a celebrity panel of judges. The panel will be made up of Film and TV actress Maxine Peake, one of 'the others' from the Smiths, Mike Joyce and Manc Man-about-Town, John Robb. It will be down to these three who will take the highly esteemed title of 'Winner Of Sidebottom's Got Talent'.
As with the previous two fundraisers Martin Sievey, Chris' brother will be sifting through 40 odd boxes of Frank's toys, art, records and cassettes and selecting items that will be auctioned off live on the night so that fans can go home with something truly special.
Saturday December 15th
The Night and Day Cafe, Manchester
Doors 7.30pm
Tickets £11.37 HERE
http://www.franksidebottom.org.uk
https://www.facebook.com/events/122437804580299/