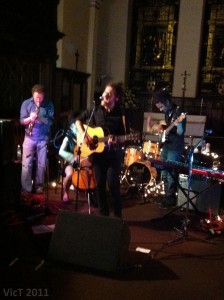 – THE DEAF INSTITUTE, MANCHESTER –
Even though tonight's temperature is plummeting quicker than Tiger Woods' squeaky clean reputation, it's good to see that the music lovers of Manchester are turning out early and in force.
By the time the doors to the upstairs music hall are opened, the queue is stretching down the full length of the stairs, and as I'm here to see the support band tonight, I cheekily and ashamedly have to push to the front to make sure I get in before I Am Blackbird take to the stage.
IAB first came to my attention when I heard that the crème de la crème of this year's In The City were to be taken down to play at The Enterprise in Camden for a special Best Of showcase. Since then they have also been picked up on by BBC Manchester's Introducing radio show, which is the best place to hear local unsigned talent.
Before the line has dwindled, IAB take up their instruments and launch straight into 'Mary Jane'. At this point bass player Ben and Cellist Estelle are looking decidedly jovial and happy to be here, while drummer Charlie and guitarist/singer Jonny are seemingly more concentrated. Also stood on the outskirts of the stage is a lone trumpeter, solemnly awaiting his cue.
The intro to the next offering, 'This Town' begins with a more military sounding beat, which also seems to feature in following songs. It builds to a much fuller sound and also includes the addition of the lowly trumpeter.
After finally introducing the now almost full room to the band, they give us the laid back 'One Good Reason' and the more up-tempo 'Last Thing On Your Mind' and 'They Don't Speak For Me'.
Lastly is recent single, 'Three Steps', a song definitely worth the 79p for the download from iTunes and also in stock in physical format from Piccadilly Records.
At the beginning of next year IAB will be heading to the studio to record a new EP, and I for one, will be looking forward to hearing it.