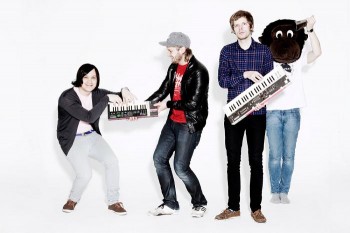 Having made their debut in Japan earlier this month and playing a string of UK dates last week including a sold out show at London's Shacklewell Arms, which had the audience ecstatic with joy, Casiokids are pleased to announce a new UK tour in January 2012!
'Aabenbaringen Over Aaskammen' is the eagerly anticipated debut album from Casiokids. Due for release on January 16th 2012 through Moshi Moshi Records, it follows the recent single 'Det Haster!' and marks a welcome and refreshing return for the quartet.
Hailing from the celebrated music scene in Bergen, Norway – Casiokids have spent the last 12 months playing shows across North America, Europe, Mexico and Russia including being hand-picked by fellow Norwegians A-ha to support them on their last tour.
Whereas their past releases have been recorded quickly in unusual locations such as guitarist Fredrik Vogsborg's father's office, the hallway of the Bergen Jazz Association, and an old canteen, 'Aabenbaringen Over Aaskammen' came to fruition within the band's rehearsal space at the newly established Bergen Kjøtt (a converted old abattoir also home to Datarock and Røkyskopp).
The tracks were also recorded at the band's own pace, all within the same timeframe. As a result, the record is much more cohesive than their collection of previous singles and unlike anything Casiokids have released thus far. The record also features guest appearances from of Montreal members.
Don't miss Casiokids live in the UK:
January:
19th Birmingham, Hare & Hounds
20th Manchester, Deaf Institute
21st Glasgow, Captain's Rest
22nd Newcastle, Cluny
24th London, Cargo
25th Cambridge, Portland Arms
26th Bath, Moles
27th Tunbridge Wells, Forum
28th Canterbury, Farmhouse
When in Paris recently, Casiokids recorded this session, playing album track 'London Zoo':
Casiokids are Ketil Kinden Endresen (Vocals), Fredrik Øgreid Vogsborg (Vocals/Guitar), Omar Johnsen (Keyboards) and Kjetil Aabø (Bass).