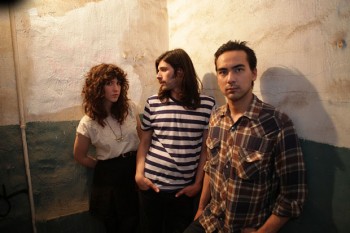 – THE CASTLE HOTEL, MANCHESTER –
Widowspeak's self titled debut album  is definitely in my top 5 for 2011. Highly regarded local indie store Piccadilly Records agree somewhat, naming it in their own top 10. The Brooklyn based trio have only been together since summer last year, can the live performance meet my high expectations? The old styling and intimate layout of The Castle Hotel serves as an ideal setting for this kind of thing.
I have to be honest, it's a disappointing start. Rob Thomas' guitar is just too loud and cutting, and either vocalist Holly Hamilton has n0ticed mid-song, or she's just enjoying watching him jump around enthusiastically in his green cardigan. Holly has a hushed, seductive, Mazzy Star voice, but it's too quiet to be heard for the first 2 tunes. Thankfully, suitable adjustments are made in time for personal favourite 'In The Pines'. Sounding like dreamy indie pop, with Chris Isaak guitar and a steady beat that would feel at home in a David Lynch film, I try to stop myself becoming too immersed and remember where I am… it's easy to get lost in their world.
They like the venue, describing it as "cool". Widowspeak put me back in my trance with 'Hard Times' and 'Limbs'. The synth and layered vocals from the album are missing here and the resulting sound is a little more light hearted.
'Gun Shy' is one of their brighter tunes, the shiny chords and foot tapping beat glide effortlessly along with that voice to bring about a rockier sounding chorus, which ends in the style of an Ennio Morricone spaghetti western soundtrack. It's a crowd favourite and the band are chuffed with the response. This is a good time to plug the merch.
'Harsh Realm', another album favourite, brings the mood back down "last night, I thought of you"… the bass line accompanies the lazy, depressed beat. The words "I always… think about you" drop lifelessly from her mouth. Dark and beautiful.
They end with 'Ghost Boy', drummer Michael Stasiak taps his leg with a tambourine and reinforces the plodding bass line with the kick drum. There are bright guitar chords once more in the chorus, Holly's spellbinding vocal is at it's clearest now, holding everyone's attention, completely. The tempo slowly rises as she sings some Ooo's, building the tension, the tambourine gets faster and then stops… it's not over, Rob creates a warm hum from his amp and Holly strums at a faster rate, building the momentum once more but much faster, until an impressive guitar solo from Rob and a frenetic finale.
The nature of Widowspeak's music justify the intimate surroundings tonight. Their songs carry a message for the lonely, isolating the individual and talking to them on a personal level. Word of mouth from this small room should emanate, aiding many others to fall under their spell.