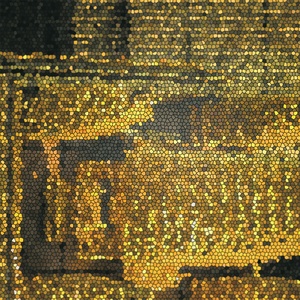 It had been a while since I'd heard from Sprinters after the release of their debut album and the cliché about absence and hearts growing fonder certainly rang true in this case. When I was given the opportunity to write this review I was both intrigued and excited to see how Sprinters sound had developed during my hiatus from them.
Unfortunately the answer I came up with after consuming around half the tracks on this new release was 'not much.' I was a fan from first listen of the wistful melancholic notes that Sprinters struck on their debut record but it's a sound that needs relatively consistent re-invention to maintain listener attention in the saturated Spotify dominated music market of the current era. Sprinters took a year out to record this record at a studio in Chorley but that appears mainly to have been spent on practical considerations of mixing or track listing etc. as Struck Gold could well be a set of demo's and b-sides that didn't make the cut on album number one. '3s and 4s', 'Missing' and 'The Light' are all solid enough tracks, displaying the Sprinters jangle-pop guitar hallmark, but they all pale in comparison to some of the stronger moments on the band's debut LP.
A friend of mine always insists that for a band to have any chance of success then they must have a good drummer. Luckily for Sprinters, Sam Almond's work behind the sticks gives them an edge on many bands with his drumming providing many of the albums most interesting moments. The guitar work is all up to scratch throughout and the riffs are initially very pleasing to the ear but once the novelty of first and second listens have worn off I wonder how much substance remains behind them. Neil Jarvis has stated that his lyrics are rather personal in nature but his delivery of them can feel lacking in conviction at various points throughout the track listing and one is left with the wish that he would venture more on his vocal talents that are clearly present but never fully realised.
If they are to capitalise on the foundation of the sound they've created for themselves Sprinters need to find a way of beefing up their lo-fi qualities and pushing on with some musical experimentation. The sheer lightness of some of the tracks here threaten to float off into the ether never to be heard from again. Tracks like 'Ending' and 'Scream 2' can provide an impetus for such a change of direction but sadly, for this listener at least, much of Struck Gold was a case of a furrow that has been rather overploughed.
Sprinters: Struck Gold – Out Now (Meritorio Records)