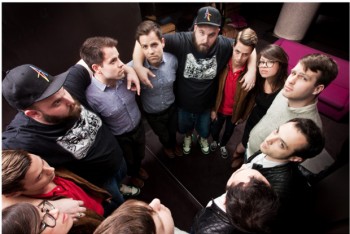 – THE DEAF INSTITUTE, MANCHESTER –
Canadian punk rock outfit Fucked Up are more than a force to be reckoned with. Since their formation at the start of the noughties, the Toronto based six piece have released an impressive back catalogue of forward thinking punk rock records, including the award winning 'The Chemistry Of Common Life' LP and the epic four part, rock opera that is 'David Comes To Life'. Tonight is the first date of a mini UK headline tour as the band have come over for a surprise support slot for indie pop darlings The Vaccines at a pretty massive show at the Alexandra Place in London.
Excitement is very much in the air this evening, particularly as the punters that have packed themselves into an already hot and sweaty Deaf Institute know just how a Fucked Up live show goes down.
On record they're very much a band set on making a really huge rock sound, combing elements of guitar driven genres to create something that is progressive but packs a punch. This is very much a similar premise for their live show but faster, punkier and absolutely packed full of thrill, energy and fun. Front man Damian Abraham is an excellent head honcho, energetically throwing himself around the stage, happily jumping in the crowd, screaming, hugging and dancing along as he climbs and circles around the room, shaking hands, high fiving those onlookers sat down at the back at the venue and gladly taking picture as he does; it really is an endearing experience to watch.
The rest of the band are a troupe of super tight musicians who tear through an hour long set, mainly leaning on latest LP 'David Comes To Life', switching from the psychedelic openings of 'Let Her Lest', the bouncy pop tones of 'The Other Shoe' to the rock 'n' roll wig out of 'Remember My Name'.  In short a charming live act with uplifting songs, a one of a kind front man and a super talented backing band; if you get a chance to see this band, grab it by the horns and prepare to be enlightened!