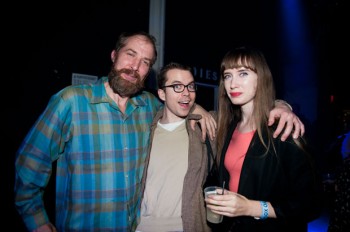 Producer, DJ, and remixer Tim "Love" Lee (a.k.a. Fully Bearded) released his new album recently, titled Fully Bearded: 15 Years of Tummy Touch Records in Dub. The album commemorates the first 15 years of Tummy Touch Records, the label founded by Lee. It features his dub mixes of tracks by past and present artists on the label including Groove Armada Ft. Bryan Ferry, Tom Vek, Phenomenal Handclap Band, and New Young Pony Club. Besides chronicling Tummy Touch's output to date, the album is an excellently produced and lovingly curated dub album from Lee, a pioneer of electronic, dance, and downtempo trip-hop music.
Lee is also celebrating Tummy Touch's 15th anniversary with a "birthday party" show at NYC's Hiro Ballroom on 11/23. Phenomenal Handclap Band, Horse Meat Disco, and Bing Ji Ling will perform live while Lee himself will DJ along with special guests. Lee recently put on a corresponding show in London which featured Tom Vek, Swimming, and more.
From it's roots as a cult dance music label and club night in East London to it's current homes in Brooklyn, New York, and at the UK's legendary Rak Studios, Tummy Touch Records has been defying convention, resisting categorisation and championing the unique musical vision of its founder Tim "Love" Lee.
Since the first release back in 1994, if it's doped up, blissed-out or living on the margins of the acceptable, it's found a loving home at the label. Having launched the careers of artists like Groove Armada, Tom Vek and Phenomenal Handclap Band, Tummy Touch now has, according to the BBC, "an influence far in excess of it's tiny size."
As the maverick A&R recluse behind Tummy Touch Records, Lee has been DJing since 1988, releasing his own music since 1990 and working his studio magic on other people's tracks since 1994. In his Brooklyn studio Lee created new sounds for Fully Bearded from raw audio tracks using a heavily modified vintage radio broadcasting mixing board and a handful of esoteric effects units.
TRACKLISTING 'FULLY BEARDED':
• Bing Ji Ling: Everybody Dub – A collaboration with Tommy Guerrero from the singer / guitarist with Phenomenal Handclap Band.
• Bud Bongo: Dub One – Tim's first ever commercially released dub mix, from 1994.
• Circuits: Dubbing At Dawn – Indie hopefuls from 2007 who imploded after their one and only tour of Japan.
• Dawn Landes: Love Dubbed – A cover of Margo Guryan's 1968 proto-psyche rarity.
• Groove Armada feat Bryan Ferry: Shameless Dub* – A complete re-work of the stand out song from their last album, Black Light.
• Little Barrie: Dub It Over – Tummy Touch will be taking care of the US release of the Nottingham blues rock trio's new album.*
• New Young Pony Club: Dub Cherie* – Once signed to Tummy Touch as Organic Audio, NYPC have since taken the pop world by storm.
• Phenomenal Handclap Band: Following Dub* – A moody interpretation of the first single from PHB's brand new album, Form And Control, which is released in Jan 2012.
• Sargasso Trio: Dub The Saxlingham One* – From Tummy Touch's sister "folk" label, Boy Scout Recordings, comes Norwich's own electro samba band.
• Striplight: No Dub No Entry – as featured on DFA's "Not Wave" compilation.
• Tom Vek: Aint Dubbin' My Goodbyes – commissioned by Island Records for Tom's ground breaking debut album but never released.*
• Zook: Slinky Dub* – two ex members of 2 Tone Records' The Higsons get the Love Lee treatment.
*previously unreleased track