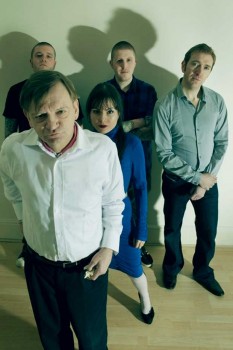 Iconic band The Fall to kick start Sunday night series of live music at the Royal Exchange Theatre on Sunday 20 November 2011 at 7.30pm.
There aren't very many groups that have been together longer than The Fall and it's difficult to think of any who, like The Fall, have released brand new material almost every year. Formed at the height of the punk rock movement in Manchester in 1976, The Fall is essentially built around its founder and only constant member Mark E. Smith. The group's music has gone through several stylistic changes over the years but it is often characterised by an abrasive, guitar-driven sound and frequent use of repetition, and is always underpinned by Smith's distinctive vocals and often cryptic lyrics.
The Fall were long associated with BBC disc jockey John Peel, who championed the group from the very early days and often cited them as his favourite group, famously opining, 'they are always different; they are always the same'.
Ersatz G.B. is the new studio album from The Fall, the 29th in their impressive canon. As with any Fall recording, Ersatz G.B. retains many of the group's most distinctive elements, whilst offering a fresh take on Mark E. Smith's familiar style and subject matter. The line-up on the album remains the same as for the last few Fall releases: Peter Greenway (lead guitar), Keiron Melling (drums), Elena Poulou (keyboards,vocals), Mark E. Smith (vocals) and David Spurr (bass). Ersatz G.B. is The Fall's first album for Cherry Red Records and will be preceded by a double A-side 7" single.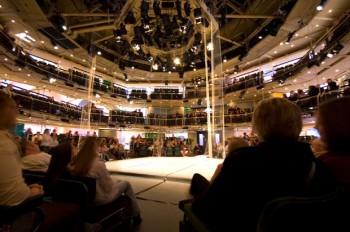 The Royal Exchange Theatre has existed in one form or another since 1792, including at its current site in St Ann's Square. The building was seriously damaged during World War II when it took a direct hit from a bomb during a German air raid at Christmas, 1940. The interior was subsequently rebuilt but trading ceased in 1968, and the building was threatened with demolition. It remained empty until 1973 when it was used to temporarily house a theatre company. The Royal Exchange Theatre was founded in 1976, and formally opened by Sir Laurence Olivier.
In the 1980s and 1990s, the Royal Exchange Theatre, which seats upwards of 700 people in the round across three tiers, welcomed the likes of John Martyn, Fairport Convention, Loudon Wainwright III, Cowboy Junkies, the Durutti Column, Penguin Cafe and Christy Moore among others. The building was later damaged on 15 June 1996 when the IRA bomb exploded less than 50 yards away in nearby Corporation Street. Repairs took over two years and cost £32m, with the theatre was named 'Theatre of the Year' in 1999 and continues to thrive.
This is the first in a series of Sunday concerts at the Royal Exchange, with John Bramwell (I Am Kloot) and Thea Gilmore co-headlining next on 18 December. It is a co-promotion between Hey! Manchester and Phil Jones for Edge Street Live.
Tickets £16.50-£29.50 from the Royal Exchange box office, Royalexchange.co.uk