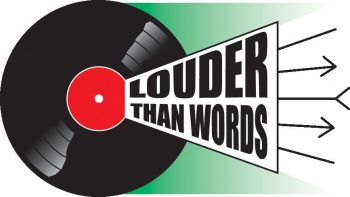 The Louder Than Words Festival of music and writing grows louder each year. This year it will take place between Friday 10th to Sunday 12th November 2017 at the Principal Hotel, Manchester, and is now in its fifth edition; this remains the only festival that delves into our enduring love affair between music and the written word.
Since its first incarnation in 2013, audience and contributor numbers have more than doubled, which in turn has only increased the variety of talks, panels and workshops programmed over the weekend. Attendees come from as far as San Francisco and Moscow, to engage in a weekend that includes panels, Q&As hosted by Louder's John Robb (amongst others) and some very special performances from all four corners of the musical world: from club culture to heavy metal; ska to punk.
There are some significant names still to be confirmed at this stage, but already signed up for 2017 are Miles Hunt of The Wonder Stuff; Rat Scabies from The Damned; one of the key cornerstones of the punk movement, Jordan (Pamela Rooke); Horace Panter from The Specials; Steve Ignorant of Crass, and Jah Wobble (PiL); as well as folk from The Fall, and The Undertones, and cultural events taking in Paul 'Smiler' Anderson's overview of the Mod scene, Robert Forster (The Go-Betweens), and Celeste Bell (talking about her late mother, Poly Styrene of X-Ray Spex), and the Time Travelling Suffragettes. Louder Luminary, the author Zoe Howe, will be back to talk about her work, alongside key authors such as Barney Hoskyns, and John Ingham, taking part in numerous panels, conversations and Q&As.
As well as hearing their stories, the Festival also offers a unique chance to get up close to people often only seen on the stage; in a much more social, conducive atmosphere of the suitably grand Principal Hotel. As well as looking back, with some significant music personalities of past decades, Louder Than Words also celebrates future voices, with a continuing focus on the role of education in music and journalism, whether that be welcoming back the Slam Poetry workshop team; involving students as volunteers and panelists; arranging workshops on everything from writing and getting published, making music, DJing and music law. The Wilko Johnson Writing Award will also make an welcome return, celebrating young music writers under 25.
Expect music… expect conversation… expect laughter… expect things to get… loud.
More news will come from Louder Than Words in the coming weeks.
Where: The Principal Hotel, Oxford Road, Manchester, M60 7HA
When: Fri 10th-Sun 12th November 2017
Tickets: Tickets are available as weekend passes, day passes, or event tickets, ranging from £7 for an event to £65 for a pass to the whole three-day weekend (£59 early bird) via louderthanwordsfest.com.
Louder Than Words Official | Facebook | Twitter