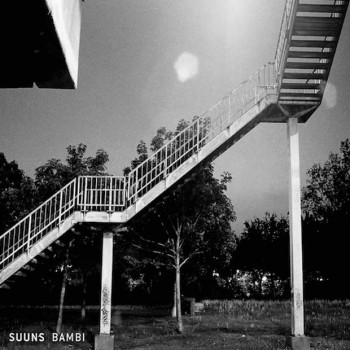 Following on from their debut album Zeroes QC, Suuns will release a new pair of songs on 12″ vinyl and digital formats this month. "Bambi" and "Red Song" fit smoothly into the Montreal outfit's oeuvre of dancefloor-friendly post-punk noir.
The band explains: "With a couple weeks off this summer in Montreal, we thought we'd take a crack at a few new songs. Stark and futuristic, these are extended jams that may or may not materialize as condensed versions of themselves on records to come. Open air textures, repetition and exploration were the name of the game for us on this one, and the finished product is a refined mining of the ideas that came out. "Bambi" is a creepy story of love lost and found, while "Red Song" is just that: a song about color."
"Bambi" b/w "Red Song" will be out November 14 on Secretly Canadian.
The quartet bring their senses-stunning live set back to European shores (final itinerary below) to coincide with the release. This year-ending trip will include their first Irish headline tour and five UK shows as special guests to home town brethren The Besnard Lakes, whose frontman and resident studio wizard Jace Lasek is also Suuns' producer.
When asked for comment, Mr Lasek noted: "Even though Suuns have been on the road for the better part of a year now, we begged and pleaded with them to come out with us one more time because we love them. I guess it worked."
November Tour Dates with Besnard Lakes:
18th Manchester, Deaf Institute 
19th Glasgow, King Tut's Wah Wah Hut
20th Birmingham, Hare & Hounds
21st Bristol, Thekla
22nd London, Scala