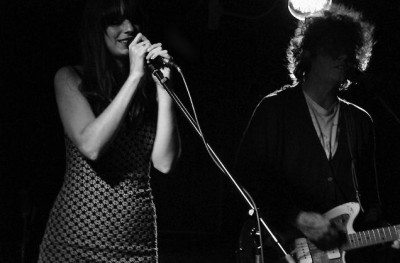 – THE APOLLO, MANCHESTER –
Texas band, Ringo Deathstarr are finally beginning to gain notoriety. Riding high on the waves of this years shoegaze revival along with bands such as the Pains of Being Pure at Heart and Yuck, Deathstarr's steadfast commitment to punk makes for a more boisterous sound, imbuing them with a sense of raw energy that their contemporaries may lack. Certainly, Ringo Deathstarr should not be thrown onto the heap of over-hyped wannabes just yet: their performance at The Manchester Apollo on tonight shows that they have the clout and gusto of a band who are clearly here for the long term.
The band wail through their set like a run-away train. With intricate guitar melodies and delicious swells of distortion, the band induce an intense, cathartic hypnosis onto the audience.  A reverbed, indie feedback strings together the entire set.
Lead guitarist and founding member Elliot Frazier unleashes a series of earth-shattering riffs, which weave frantically around Alex Gehring's hazy, child-like vocals and brooding bass lines, while Daniel Coborn, head down, pounds the drums to an inch of their lives.
Seldom have I had the feeling of literally being pushed backward by sound waves (sorry ears). Apart from the excellent 'Summertime', taken from the 2009 EP  'In Love',  I'm not totally certain what  tracks are performed – the indie pop melodies found on their debut album, Colour Trip, translates much heavier in a live setting. I think my brain may be creating them while trying frantically to make something of the onslaught of stimuli.
In a world full of watered down, formulaic, radio friendly rock, Ringo Deathstarr  are quite simply, the saviours of rock 'n' roll