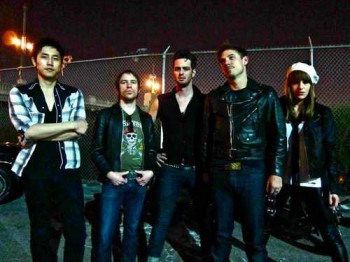 – THE RITZ BALLROOM, MANCHESTER –
No, not a euphemism for a trouser trump, the name of this band actually refers to a section of the novel White Noise by Don DeLillo. And as such, it underpins the literary intent of the band, and specifically singer Mikel Jollett, himself a writer who was in the process of writing a novel when he discovered what he had were songs, rather than fiction.
And that's important, especially to someone who pours over lyrics and deconstructs songs for their lyrical intent… unlike my wife, who's happy enough access the emotion of a track via the music. Both are equally valid, of course, but when you read the lyrics in the sleeve of the eponymous debut album, you realise the care that has gone into their construction. If you don't believe me, take time out late one night, fix yourself a double of something throat-burning and sit with the music and lyrics to Sometime Around Midnight. Not many contemporary lyricists could pen "when all these memories comes rushing like feral waves to your mind: of the curl of your bodies like two perfect circles entwined".
Absolutely beautiful. But onwards… to the Ritz! On stage the band fire through most of the songs on the album with abandon and reckless energy – low-slung base, Edge-esque guitar, female vocals and violin plus Jollet on vocals and rhythm guitar. Together they make a very gorgeous brand of noise – somewhere around that point where Arcade Fire meets The National. Tracks like Wishing Well and Gasoline rip through the fabulously retro aesthetics of The Ritz, while Missy and Innocence are saved for a sit down acoustic section. As there's only been one album, a couple of covers fill the gaps, including a fabulous rendition of I'm On Fire by Springsteen. Towards the end of the set, Jollet says "we got this band together just so we could play a gig like this in Manchester" before bemoaning the lack of guitar bands in the anodyne Cowell-constructed wasteland in which we live. He then heads into an amusing medley of Smiths' covers, to rousing applause.
Before heading off stage, Jollet explains that after two years on the road, the band are heading home to the States the very next day. Let's hope it's to record new material and let's also hope it's not long before they come back. The Airborne Toxic Event was, for me, the very best thing, in musical terms, about 2009.