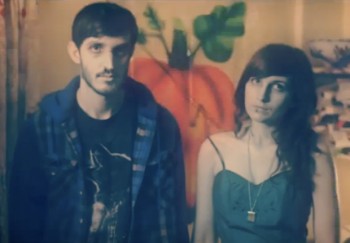 With the recent release of debut LP "Welcome to Condale", the duo Summer Camp are announcing the release of a brand new single, "Down".
While their album evokes a cinematic microverse of teenage lovers and loners, freaks and high school geeks in American suburbia, "Down", appropriately enough, comes across as a cry of frustrated independence and a longing for escape from dead end towns, as Elizabeth Sankey sings, "I don't know what I'm waiting for/ but when it comes I'll still want more" before Jeremy Warmsley joins in on the chorus and the pair sing "This is my life/ as the world turns to 3am/ spinning round, there's no hope", capturing in a succinct 2 ½ minutes the pain and poignancy of growing up, set to twinkling keyboards and propulsive beats.
Additionally, hot on the heels of the album and single release, the band will be heading out on a headline tour across the nation, beginning on November 9 in Lancaster, culminating in the band's biggest gig to date, as they support The Vaccines on December 8 at Brixton Academy, giving listeners plenty more chances to fall under the spell of Summer Camp.
UPCOMING LIVE DATES
November
9th Library, Lancaster
10th Mojo, Liverpool
11th Dog and Parrot, Newcastle
12th Constellations, Leeds
14th Joiners, Southampton
15th Jericho, Oxford
17th Efes, London
18th Farmhouse, Canterbury
19th Green Door Store, Brighton
December
8th Brixton Academy w/ The Vaccines, Surfer Blood
The single "Down" was released on November 7th
The debut LP "Welcome to Condale" is also available now