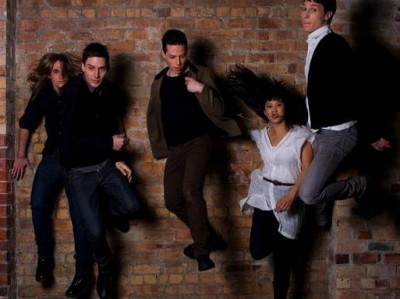 – THE RUBY LOUNGE, MANCHESTER –
Let's get one thing out of the way: 'The Naked and Famous' is a bit of a rubbish name. Initially a droney college-rock 'anthem' by The Presidents of the USA, their moniker has also been adopted by an overpriced hipster-courting denim company. Still, third time's the charm, right?
Local trio Beat the Radar have clearly been drafted in for a last-minute support slot and their set reeks of a lack of preparation. "This song is off our album….but you can't buy it cos we haven't brought any with us" slurs singer Jonny Swift. Probably just as well, since it'd probably be entitled 'Half-Baked Stone Roses Impressions by Men in Christmas Jumpers".
Each song starts promisingly enough with snappy Interpol-esque drums and spaced-out guitars but somehow all seem to end at the same Madchester ploddy pace. Like setting off on an expedition and realising a week later that all you've done is walk around the block and arrive back at your front door. Given their Myspace influences, this band should be brilliant but Swift's mumbly between-song patter fails to endear them to a crowd who tentatively hover at the back of the room. Muttering something incoherent about being half-cut, the band trot out what even Ian Brown would mistake for a sped-up intro to 'I Am the Resurrection'. Disappointing.
In their native New Zealand, TN&F beat Katy Perry and Snoop Dogg to number one. Tonight, the band are helping themselves to a hefty slice of humility pie "Right now, my body thinks its 8am. And it's cold" announces bequiffed frontman Thom Powers, eying the healthy turn out for a band who are relative strangers to our shores. Comprising of three beautiful boys, a beautiful girl and a bassist who looks like a bizarre taxidermy experiment between Noel Fielding and Axl Rose, the band kick off their set with 'All of This', the sparklier, bleepier sibling of LCD Soundsystem's 'All My Friends'. Powers, along with co-vocalist Alisa Xayalith make up a formidable boy/girl vocal machine, the three – count 'em – synths forming a rippling wall of sound that momentarily bubbles under the surface before erupting into a fireball of bloody good melodies.
Echoing Rilo Kiley in the way that both Jenny Lewis and Blake Sennett can hold their own apart as well as together, neither one of Powers and Xayalith is the weaker link.
Latest single 'Young Blood' is a masterpiece – four-minutes of MGMT-tinged lyrical gobbledygook that cements the belief that this band should be prescribed on the NHS, handed out at graduation ceremonies and sprinkled over newly-married couples. All fully clothed and not hugely well-known (yet), the five-piece succeed in restoring faith in off-beat pop music where they've failed to comply with the Trades Description Act. Lovely stuff.