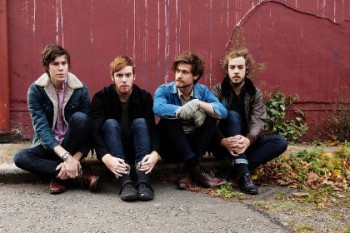 – THE DEAF INSTITUTE, MANCHESTER –
The ABC Club come on stage in a haze of pyrotechnics, clad in leopard skin leotards and beckon to the crowd 'Are you ready to motherfucking rock Manchester?'
Well, actually they don't at all, but its Monday night in cold, wet and windy Manchester and I need a wakeup call. I probably shouldn't have come out at all, still shattered from the weekend's revelry.
My mind's eye has already begun to ponder the kind of thing that might loosen the lethargy and exploding stadium rock is a distinct possibility.
The 'only' problem with stadium rock though is that it tends to be big on spectacle and sing along choruses but not so big on depth and intimacy. The ABC Club on the other hand couldn't be any more the opposite. The five piece stay firmly rooted to their designated stage positions as lead singer Zandra Klievens fixes a constant dead eyed stare out onto an audience that is still trickling in though the doors.
They clearly prefer to let the music do the talking, which thankfully it does rather well. The ABC Club songs are a riot of hooktastic indie guitar pop melodies mediated by the understated calm of Klievens. They've got catchy guitar riffs galore, the likes of which Robert Smith and Bernard Sumner would gladly take part in a bare knuckle death brawl to get a hold of.
Klievens voice is perhaps the missing link between Patti Smith and Julian Casablancas and her preference for poetic word play over shout along choruses neatly distinguishes the ABC Club from the usual indie guitar pop crowd. They probably won't fill the stadiums but their loss is our gain.
By the time Milk Maid take the stage there is a much healthier turnout populating the Deaf Institute but Milk Maid don't quite seize the opportunity.
Having checked them out beforehand I had been enjoying their west coast garage pop sensibilities. The lazy reverb drenched vocals of Martin Cohen tripping lightly over the music.
However, live they inevitably have a harder edge which at times makes them sound like Ash minus the Kung Fu, resulting in having a somewhat negative impact on Cohen's voice.
He doesn't seem quite comfortable having to deliver the songs with more bite and it makes him sound a little bit whiny. His lack of engagement with the audience also does little more to ingratiate the group. They do work well together as a unit and they do have a good sound but unfortunately the songs don't really sparkle enough. The charming simplicity that works so well for other bands of their ilk, tonight, unfortunately, comes across as being slightly pedestrian in Milk Maids case.
Wild Nothing are in town supporting the recently released and rather excellent 'Golden Haze' EP. Like The ABC Club before them, they possess some rather stellar indie dream pop ditties which have an instant impact on the audience.
Perhaps it helps that there is a distinctively Mancunian tinge to their sound which bares more than a passing resemblance to early New Order and The Smiths, albeit with a rather hefty nod to Slowdive too.
It's a strong start to the set with 'Live in Dreams' from debut album Gemini featuring early on. In the studio Wild Nothing are basically a one man band based around frontman Jack Tatum. Live they extend to a four piece and the Shoegaze haze of their records is recreated well.
As they approach the end of their set there is no let up in their luscious soundscape but unfortunately that does have the effect of making everything sound quite samey and it feels like they've maybe played too many of their better songs too early on.
I guess it'd hard to reinvent the wheel when you are doing music of this style. I do however wonder if they will be able to make it through another album without employing some more variation. But I sincerely hope they do and with Jack Tatum still only at the tender age of 22, time is most definitely on their side.