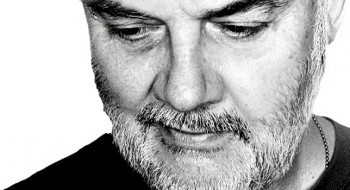 – THE NIGHT & DAY CAFE/GULLIVERS, MANCHESTER –
Un-Peeled is part reverent nod, part push forwards for the music the great man championed #Keepingitpeel Keepitpeel .
The set is an all dayer at Oldham Street venues, Night & Day Cafe and Gullivers. I arrive at Night & Day round 7.30 at the tail end of The Groundhogs. The audience is noticeably older than usual Saturday bounciness I'd opt for. John Robb's hair stands out in the crowd which already gives proceedings a fitting seal of approval. It's apt seeing Robb is here as the week before he'd given his rousing cry for punk rock work ethic at TEDxSalford. To get a sense of the longevity and graft of some of the bands on the set list have a look at The Groundhog's line up. http://en.wikipedia.org/wiki/The_Groundhogs
Blue Orchids get on stage next and play songs that don't immediately get the crowd excited, it sounds quite old indie without recognisable tunes. Looking round the room I'm trying to work out if I'm not getting what other people are nodding respectably to? I've a funny feeling tonight that we're not too far removed from The Fall and sure enough Blue Orchids do feature a couple of ex-band members.
Next up is Paris Angels – they have loads of energy and a lot of fun about them. They look very comfortable on stage and have a strong Madchester sound running through them. Paul Wagstaff's influence as a member is an obvious part of the jigsaw, he went on to be in Black Grape. After the funky jangle of their set Emma Pollock turns up to be one of the highlights of the night. The former Delgados lady knows how to get the audience all eyes on her. She jumps between stripped back, to rocky and letting go. She's someone I'd certainly pay to see live in her own right. Her voice coming across as honest, vulnerable and strong.
I wish we could end and bask on this high. Instead I go get involved in some kind of intellectual tussle on art forms accompanied by a Grandmaster Flash backing track. Cue Gullivers. If you're a Northern Quarter regular this venue is worth adding to the list to stretch it in a different direction. We enter with full pub party in swing. The DJ downstairs (not part of the Un-Peeled night) is playing some show stoppers. He's got a black eye and looks like he's a story to go with it. In actual fact he has (we get this info from a very reliable source), in the 90s he released a track with 808 State! Upstairs it's back in Un-Peeled mode and The Telescopes are on. It's a grind. The room is full with fans that are modestly appreciating a huge grimy wall of noise. That's all I can say. Each song is a heavy bound bundle of clashes and thrashes. Punk metal with a slow puncture. My gums hurt. I want to go back down and dance to Billie Jean. As I do I get into a discussion on why I need to see how The Telescopes are creating something very unique, exciting and precious. The argument is for why their art form is very raw and unmuddied: pure self expression. I can hear the punk rock ethic of John Robb's talk ringing in my ears from last week, but I just don't get it. Surely experiencing live music just aint that cerebral. Unless you've signed up to some kind of sonic performance night. I don't see how a wall of noise isn't angst to grind.
The choice of bands is more closely linked to celebrating Peel's favourites rather than who's creating interesting and edgy stuff right now. The set as a whole feels like a Peel mix tape of his long standing playlists… To enjoy the night you really need to be an aficionado of his and get what he stood for. For the Peel uninitiated trying to dip your toe into this post punk, indie leftfield mix is a bit like offering your mum jägerbombs and popping candy at a funeral. My apologies Mr Peel for not getting it. I wonder if the night should champion his values rather than keeping aflame bands from his record collection? Surely a night that promotes rule breakers, creativity on the edge and sound ahead of the curve would make for a much more memorable one.