It's All Hallows' Evening and folk/blues rock duo, the Two Gallants are in town.
There's a spooky atmosphere in the air tonight, as hoards of young 'uns line the streets, screeching and clutching each other from the freezing cold. Girls with thick make-up prance around in short, ripped skirts and devil horns. The boys have blood stained shirts, dark eyes and ghoulish stares. Yeah, just another normal, night out in Manchester then.
I'm stood in the little Academy 3, my favourite of all the Academy venues. Belgium rock-outfit The Hickey Underworld, offer the support tonight. The four-piece blend post-hardcore with garage rock; stained with punk/grunge inspirations. A far cry from the rural, raw, old worldy-ness of the Two Gallants. Mid-set, the Hickey's treat (or trick) us to a Slipknot-esq performance, wearing rubber masks.
Is this an odd pairing or a stroke of genius? I'm sold. Everybody needs some Belgium metal in their life. Cradle of Filth supporting Bright Eyes coming to a venue near you soon. The bemused audience actually love them.
The Two Gallants, Adam Stephens (lead / guitar / harmonica) and Tyson Vogel (drums) have been making music together since the little age of 12. It's honest, gritty indie-rock mixed with country-punk. Yeah, I said country-punk; imagine raw blues riffs and tale-yarning lyrics fused with the DIY, rebellious punk ethos and you're almost there.
Taking the sound check into their own hands, Tyson sits at his drums wearing a huge, massive parka. Adam, with giant, black make-up clad eyes, grabs the guitar for a bit of one-two, one-two. His accompanying beany hat and bushy beard means that he's got the unintentional, 'burglar from Home Alone' fancy dress costume, spot on.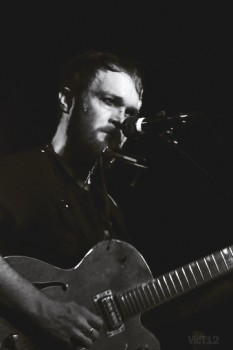 Almost half the songs tonight showcase their new 2012 release The Bloom and The Blight, without shying away from the sing-along roster of classic, Two Gallant tracks. The first song, Winters Youth gives us a perfect preview into the heart of the Two Gallants sound. Following the soft tinkering intro of Adam's solo guitar and raspy vocals, comes the crashing roar of Tyson's fierce drums. His parka flies off to reveal a bare chest and a thick gold chain; it's the ideal taster of what's upon us during the next hour or so.
Tracks from The Bloom and The Blight continue with the epic Halcyon Days, Ride Away and Cradle Pyre. Each show-off Adam's unforgettable knack for insinuating every goddamn lyric, with a manic, intense, sweaty stare into nowhere.
Broken Eyes has Tyson, the sweaty, topless, non-stop drummer, take a break to join Adam up front to accompany his performance. With a few bashes of the tambourine and harmonising vocals, this is a beautiful duet of scruffy, dirty folk-rock. The track ends with Tyson launching himself, hand percussion and all, into the unsuspecting crowd. Adam's make-up takes a turn for the worse just two songs in, when what could be mistaken for black tears, is simply sweat pouring from his face.
Despite What You've Been Told dips into the Two Gallants archive and see's Adam, again, spit every lyric with pure expression. The band give their sublime Steady Rollin' an uplifting twist, transforming it from a heavy, folk-drenched track, into a hillbilly, country song. Other archive numbers Los Cruces Jail, My Madonna, Seems Like Home To Me and Long Summer Day, ensue audience members clambering on the top of each other's shoulders, mass sing-a-longs and stage dives. All raise a rare smile from the lead Gallant, Adam.
The chemistry between the two is incredible. Tyson's drum kit is giving equal pegging at the front of the stage, an unusual format to the traditional stage set-up. At points during the night Adam drops to his knees, almost like he needs to be closer to what's going in the percussion section.
It's a passionate, gut-wrenching performance tonight. It's no half-arsed approach. The simple combination of just two dudes, proves you don't need banter and exuberant stage antics to make a good gig.
The Two Gallants finish their set with a beautiful cover, of an old, vintage song, Dyin' Crapshooter Blues. The gnarled  guitar distortion and the heavy thud of the drums, transforms the 80 year old song about a gambler called Jessie Williams and his dying wishes, into a grungy, modern day story.
The track was originally written and performed by influential blues-master 'Blind' Willie McTell, who said at the time that,
"I started writing this song in '29. I didn't finish it till 1932."
Well Willie mate, on the 31st October 2012, the Two Gallants finished their Halloween gig in Manchester with an incredible homage to your timeless tale. You should be very proud indeed; it's what Jessie would have wanted.
www.twogallants.com
www.thehickeyunderworld.com