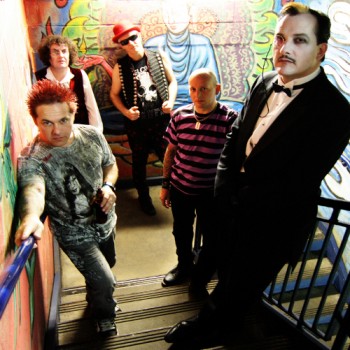 The storied career of seminal British punk band The Damned is coming to the big screen. When the band kicks off its 35th anniversary tour this month in Boston, they will be shadowed by New York-based filmmaker Wes Orshoski, who is directing/producing a feature-length documentary on the group.
The as-yet-untitled-film, to be a production of Orshoski's Three Count Films, will combine new footage captured on and off the road with the current band members—including Damned founders David Vanian (vocals) and guitarist Captain Sensible—with archival clips and new interviews with many of the band's famous friends and peers.
"I'm incredibly honoured to be working with a band who I feel has registered as an immeasurable impact on artists from across the musical spectrum," says Orshoski, who recently co-directed/produced the critically acclaimed documentary on Motörhead's Lemmy. "I feel like the Damned's story and the scope of the band's influence has gone largely unnoticed by the masses, especially in America. And I'm hoping my film will help right that wrong."
Captain Sensible quotes -"It seems like every other scumbag who was ever in a punk band got a film made about them, now it's our turn, and at least we have some real stories to tell. Hopefully, this will cause a bit of a stink, but that's what it was always supposed to do."
Orshoski is asking longtime fans of the band who may be in possession of vintage video and photos (as well as rare handbills, posters and/or magazine articles) to email him at: [email protected]
The Damned, featuring Vanian, Sensible, drummer Pinch, bassist Stu West and keyboardist Monty Oxy Moron, kicks off its 35thanniversary tour October 20 at Middle East in Cambridge, Massachusetts. The band is marking the anniversary by playing both its 1977 debut album, 'Damned Damned Damned,' and 1980's 'The Black Album' in their entirety on the upcoming tour, which launches in the U.K. on Nov. 9 in Bristol (O2 Academy). The 35th Anniversary tour goes to Australia and Japan in 2012.
November Tour Dates:
9th – Bristol, O2 Academy
10th – Birmingham, O2 Academy
11th – Cambridge, Corn Exchange
12th – London, Roundhouse
13th – Brighton, East Wing
14th – Norwich, UEA
15th – Nottingham, Rock City
17th – Newcastle, O2 Academy
18th – Leeds, O2 Academy
19th – Manchester, Academy
20th – Edinburgh,  HMV Picture House