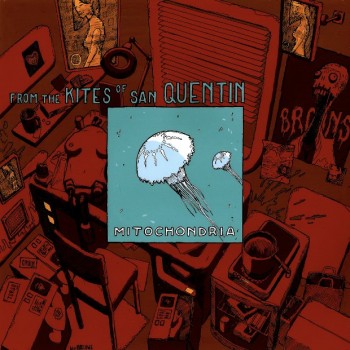 November the 14th sees Manchester's From The Kites Of San Quentin release their Mitochondria EP on their very own label This City Is Ours Records. The debut EP from FTKOSQ showcases the collective's fresh and innovative musical style with three new original tracks backed by a series of remixes.  
Comparisons to Portishead, Massive Attack, Flying Lotus and Burial come to mind, but with elements of dub, hip-hop, electronica, trip-hop and even prog-rock embedded in their distinctive sound, FTKOSQ are a band that refuse to be pigeon holed. Forged from an unwavering determination to create something truly unique, FTKOSQ are the epitome of a musical enigma.
Fast becoming stalwarts of the enthralling live circuit in Manchester, FTKOSQ have already shared stages with 65 Days Of Static, Mount Kimbie, Max Tundra and Esben & The Witch, and have been lauded for their sets at local festivals In The City and Sounds From The Other City in Salford. With a number of festival appearances already under their belt during their short lifespan, including Electric Picnic and Soundwave in Croatia, the band's reputation as an unmissable live act is on the rise.  
To mark the release of the Mitochondria EP, From The Kites Of San Quentin will play a special launch gig in the beautiful setting of the Sacred Trinity Church in Salford on Friday 11th November.
Mitochondria EP will be released via the This City is Ours bandcamp: http://thiscityisours.bandcamp.com on a 'choose your own price' scheme.
 Tracklisting:
1. Stoopid 2. Leopold 3. Tiny Numbers For An Abstract Mind 4. Stoopid (Co.fee remix)
5. Leopold (Anclove remix) 6. Tiny Numbers For An Abstract Mind (Capac remix) 7. Stoopid (Zoir mix)* 8. Stoopid (Manni Dee remix)*
 * Remixed by competition winners through FTKOSQ's bandcamp
http://www.fromthekitesofsanquentin.bandcamp.com/ / www.facebook.com/fromthekitesofsanquentin
www.twitter.com/kitesglitch   / www.youtube.com/fromthekites