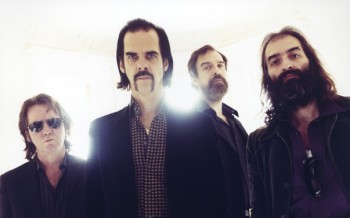 – THE ACADEMY, MANCHESTER –
This is Grinderman's first outing to Manchester as a separate entity from their 'Bad Seeds' line up. Promoting only their second album to date; 'Grinderman 2', the place is packed with young 'emo' kids and old punks alike, highlighting Grinderman's versatility and transcendence against the restrictions of age and fashion.
For those who don't know, Grinderman have a harder hitting, rockier edge by comparison to the Bad Seeds back catalogue. It's louder, funnier, frenetic and bursting with the angst of the sexual frustrations of a man having a mid life crisis.
The band take to the stage, Jim Sclavunos (formerly of the Cramps) takes his seat behind a stunning pink drum kit, Martyn Casey on bass, Warren Ellis on mandocaster and percussion and all three sporting a fine, fine beard. Nick Cave appears, suited, booted and clean shaven. No moustache. No beard.
They open with 'Mickey Mouse & The Goodbye Man' from their new album, a raucous, snarling and primeval sounding song, setting the crowd chanting and adulating, whilst being blinded by a stunning light show.
The lights look like the aliens from the cover of Jeff Wayne's 'War of the Worlds', throwing out a laser beam light show as if they were trying to kill us dead. The backdrop displays cartoon caricatures of the band, showing Nick with a moustache and the others with their impressive beards, they look just like Adult Swim's 'Metalocalypse'.
Taking us through their November release single, 'Worm Tamer', we go straight into 'Get it On' and current single 'Heathen Child' as Nick crashes into to the drum kit, knocking Jim off kilter whilst bashing away at his pink skins. 'Sorry Jim' cries Nick as the road crew scramble about the stage tryingto put everything back together again.
Seizing his opportunity to distract the crowd from what's going on, he decides skyward, pelvic thrusts are the way forward, before deciding he may need to chill out a little bit and do something a little less chaotic.
'Palaces of Montezuma' is just the ticket, and possibly the only love song of the night, before he jumps right back into sex starved cave man mode with 'When My Baby Comes', 'Honey Bee' and 'No Pussy Blues'- which sets a light under everyone in the audience with its razor tinged, scuzzy guitar sound, coupled with hilarious story telling of being knocked back (KB'd!), even after 'petting her revolting little Chihuahua'.
Finishing with an encore including; 'When my love comes down' and a haunting rendition of 'Grinderman', the band thank the crowd over and over before releasing us into the night.