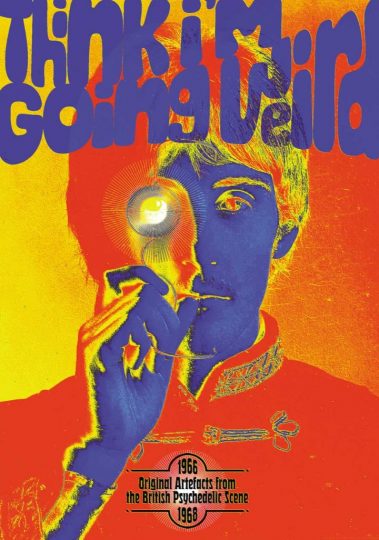 Ah, the sixties, a time of Beatlemania, rock n' roll rebellion, pop dominating the charts, three tv channels, and space exploration. While the world was fascinated by what lay beyond our own planet, in the late 1960s music fans around the world were discovering other ways to get 'far out' and 'go cosmic man' thanks to the psychedelic scenes which had sprung up all over the globe. Although often linked with San Francisco, many musicians outside of California also felt alienated from mainstream culture, and the expectations of society, none more so than here in the UK. 
Whether or not these bands considered themselves part of a wider movement at that time, they all had one thing in common – a desire to take pop music in a new direction. From darker more experimental tunes to summery, hazy melodies, the British psychedelic scene heralded a new era in modern music. Now this new five album compilation, brings together what must be the vast majority of psychedelic music made in that period.
Musically, there's some big names on here, with alternate version of songs or deeper album tracks, such as The Kinks 'Lazy Old Sun', and The Status Quo before they discovered double denim, with 'Sunny Cellophane Skies' from their psychedelic album 'Picturesque Matchstick Message From The Status Quo'. The 60s Nirvana get a track on here with 'The Touchables (All Of Us), as do bands like The Move with 'Walk Upon The Water', Tyrannosaurus Rex with Marc Bolan at his most psychedelic folk best with 'Beyond The Rising Sun', and psych pop kings The Zombies with 'Hung Up On A Dream' from the legendary 'Odessey And Oracle' album.
Yet what I find just as intriguing is the frankly ridiculous band names, masking a brilliant tune that you probably would never have unearthed had it not been for this compilation. Take a bow Granny's Intentions with your brilliantly bizarre tune 'The Story Of David', and Boeing Duveen And The Beautiful Soup with a name that even he admitted was "a terrific Sixties name, you couldn't get worse if you tried!" He was also mates with Pink Floyd's Syd Barratt and Roger Waters and later changed his name to Hank Wangford, transforming into a country singer.  Not to be outdone in the band naming front there's Mabel Greer's Toyshop with a floaty, moody piece titled 'Jeanetta', they went on to become the one syllabled prog rock giants Yes.
Then there's the weirdly wonderful Mancunians, Wimple Winch, and their harmonious rocker of a tune 'Rumble On Mersey Square South' with its social commentary on inter gang warfare in Stockport!  Covering the cuter end of the band names spectrum we find The Tickle with the gloriously jangly pop tune 'Rose Coloured Glasses' and Blossom Toes with the eccentric pop tune 'What On Earth'.
The beauty of compilations like this is not only revisiting songs you may have enjoyed before, but discovering a whole heap of tunes you wouldn't have heard otherwise, from well known bands to the more obscure ones. With 122 songs to dive into there's plenty to keep your ears occupied, and the fact it comes in a hardback glossy 60 page book with some outstanding artwork also adds to the appeal. There's too much great music to cram into one review, but with eleven previously unreleased tracks, and many that have been laying in obscurity for decades, Grapefruit Records have triumphed again with this boxset, their 100th release as a label. One for both the completists and the curious alike.
Various Artists – Think I'm Going Weird: Original Artefacts From The British Psychedelic Scene (1966-1968): Out 29th October 2021 (Grapefruit Records)