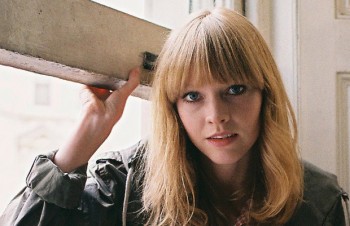 – THE DEAF INSTITUTE, MANCHESTER –
'CDs, T-shirts, Tea, Jam, Tote Bags' is the list of merchandise on sale at Lucy Rose's sold out Deaf Institute gig tonight, and it's clear it's going to be more of a tea and jam event than it is rock n' roll as fans file in under the giant disco ball that hangs from the ceiling. Which isn't to say the fans filling the room aren't excited to be here, some of them have clearly gone to extraordinary lengths to get ready for this show- in particular the girl on the front row who looks quite incredibly similar to tonight's headline act, so much so that we spend a good while trying to work out whether it actually IS Lucy Rose. Disguising herself as one of her own fans, who is in turn disguised as Lucy Rose, sounds like the perfect live gimmick (and a cheap and easy Halloween costume if you can't be bothered thinking of one).
But soon the compere takes to the stage to introduce support act Pete Roe – although even he can't help but notice the doppelganger on the front row, saying 'If everyone looks at her later, it's uncanny!' Laura Marling fans might recognise Pete Roe as a regular member of her touring band, although he has trimmed down to size the large beard he usually sports. He plays a soulful set of acoustic blues songs equipped with just his guitar and a stompbox, despite looking a bit tired – "I've been sleeping really badly" he says. "I slept on my upturned thumb the other day. It hurts like Billy-o". I'm a little disappointed he doen't start this anecdote 'I woke up this morning…' in true bluesman style. There's definitely a song in there somewhere. I'll let you fill in the rest of the lyrics yourself.
A little while after Pete Roe's set ends, the lights dim to announce Lucy Rose's imminent arrival as Pink Floyd's 'The Great Gig in the Sky' plays over the speakers and the crowd cheers in anticipation. I half expect the lookalike to jump onto the stage and pick up a guitar. At her Leeds Festival show this year, telling the audience she was soon to also be on stage with Bombay Bicycle Club with whom she regularly collaborates, she said "I can't believe I'm here – I can't believe this is my life". I wonder how seeing her own mirror image in the crowd will match up on the disbelief scale.
It turns out Lucy Rose hasn't been hiding in the crowd cleverly disguised as herself. Lucy and her band enter the stage and she begins with appropriately named 'First', solo at first and then joined tactfully by the whole band as the song goes on. She's described them as a 'bit of a supergroup' before, consisting of ex-Razorlight guitarist Björn Ågren, ex-Broadcast 2000 bassist Joe Steer, multi talented keyboardist and cellist Alex Eichenberger and drummer Sam Nadel (whom I can't find much out about but my friend said he's 'really cute', so there's that at least).
 Between songs she's genuinely warm and friendly with the crowd, even telling someone on the front row trying to take a picture "that's probably a bad angle, the mic's in the way" and moving her head to make up for it. She also reveals "There's been something really bad put about me in NME today, which is completely NOT TRUE. I wouldn't let my mum read it." Well, you heard it here first. In songs, she puts in a fully committed performance, alternating between soft-spoken and moving with just her and the guitar (as in new song 'The Fire') and powerful and rhythmic when joined by her full band.
There's some disbelief on the crowd's part this time when she tells the audience after being called back onto stage "We don't usually get encores, thank you very much!", from the atmosphere in the room I think most of the people here would happily listen to her for much, much longer. She finishes up with 'Don't You Worry' before heading to the merchandise stand to sell tea and jam. Rock n' Roll indeed.