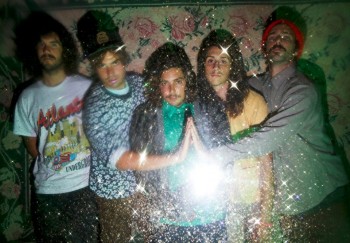 – THE DEAF INSTITUTE, MANCHESTER – 
On a dark October evening as Manchester slides into winter, who wouldn't want to take one last chance to reflect in a Californian sunbeam before it's too late? There's a storm warning on the radio, the clocks turn back tonight, and yet all that fills the Deaf Institute air is talk of Orange County beaches and champagne, thanks to garage-surf-psych slackers The Growlers.
Tourmates and fellow So-Cal freewheelers Tomorrow's Tulips set the tone for the night early on. With a Byrds-like jangly breeze, they trip through a 30 minute set with detached ease, many tracks featuring surprising pedal effect switches which demonstrate a technical intricacy that their demeanour otherwise disguises. Finishing with an extended Grateful Dead-style freak-out, you would imagine the next 5,000 mile journey they make to Manchester will be for a headline show.
 And so, with the cold wind outside replaced with a more exotic aurora, up step The Growlers. Part of the self-anointed "beach goth" scene, they can best be summarised by a line from their latest album: 'Life is for living, and that's as far as we got with our plans.' The day-to-day stresses of the world out there are absent from their music – yes, there are songs of relationship-angst, but generally they are shrouded in a stoned philosophical cloud, and avoid first hand detail. Like Tomorrow's Tulips (with whom they share drummer Scott Montoya), they exist essentially to have fun, and over their seven years they've got very good at it.
Opening with the utterly addictive would-be radio hit 'Someday', they immediately have the Deaf Institute strutting and shimmying. Frontman Brooks Nielsen (imagine Jack Sparrow crossed with Tom Hardy's Charles Bronson) sings about the hope of a better life with confusing indifference, apparently unimpressed by the song's infectiousness. Not so the crowd, whose energy levels seldom drop for the following 65 minutes.
Perhaps inevitably the best reactions are reserved for songs from 2013's Hung at Heart, their third long player, and tracks such as 'One Million Lovers', 'Burden of the Captain' and the surf-tastic 'Row' pulse with excitement. However this reviewer noticed a considerable handful of punters who sang every word of every song – a sure sign that this band may live under the radar even of the major Internet blogs, but they have a core fanbase to rival any of their contemporaries.
Guitarist Matt Taylor's ramshackle delivery is perfect for the essence of The Growlers, given the sturdiness of Montoya and Anthony Braun Perry's rhythm section as the sun-resistant superglue holding proceedings together. And as the glistening 2011 single 'Gay Thoughts' brings the night to a close, the Deaf Institute is left abuzz, unaware of the grim reality that faces them for their eventual journey home.

The Growlers  Official | Facebook | Twitter | Soundcloud