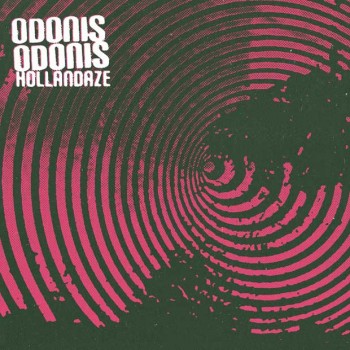 Due for release on November 7th, 'Hollandaze' is a grimy, gum-splattered ménage of surf-gaze, punk and lo-fi, cut from twanging reverb & fuzz heavy guitars, thick driving bass & drum machines and overdriven hammond organ. Based in Toronto, Odonis Odonis make killer hook-driven tunes that hark back to the classic '80s sounds of The Jesus & Mary Chain, Pixies, Big Black and The Cure.
Originally a solo project for prolific songwriter/ bandleader Dean Tzenos, Odonis Odonis has only recently become a live band project, playing their first live shows in May and picking up heat as one of the buzz bands of Toronto's NXNE festival.
Compiled from a wealth of material written and home-recorded between January 2009 and September 2010, Dean recorded virtually all of 'Hollandaze' alone in a tiny home studio, writing two or three songs a day – generally starting with drum programming – before adding bass then guitar and vocals, experimenting with a host of different styles.
Recording nearly forty demos in just a few months, Dean subsequently picked out ten which he took to Vancouver to re-record with Colin Stewart (Black Mountain) and which will appear on a second album due Spring 2012. Whilst album No.2 will deliver something that is overall less distorted, 'Hollandaze' opens with a firm foothold in punk/ garage rock, mining '77 – mid 80's sounds with tons of surf-tone guitar lines – building grooves as the main element before overlaying big melodies on top.
Signing to FatCat in June, Odonis Odonis' first release came in May with an ultra-limited edition 7″ single – 'Busted Lip' on Canadian label We Are Busy Bodies, followed swiftly in July by four tracks on a split 12″ (shared with Deerhunter side project, Lotus Plaza) on FatCat's new sister label, Palmist.