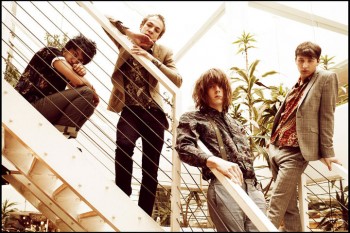 – MANCHESTER CATHEDRAL, MANCHESTER –
I love the Mystery Jets. I'd currently put them in my top ten bands. However, this gig at Manchester Cathedral is let down by the venue. It's not usual for groups to do gigs in churches but this one is too big, its huge, cavernous expanse sucking the life out of what is a pretty decent performance.
Entering the impressive medieval structure is a slightly surreal experience and I suspect few of the throng are religious, but I get the feeling we are all united in our worship of 'The Jets'. That said there is markedly less enthusiasm for the tracks from their new album (which has been out since July). This is palpable for the first track but nevertheless a big cheer goes up at its conclusion. Next they slip into "Half In Love With Elizabeth" and the crowd's energy surges. The arrangement seems different to the album version and it doesn't quite work for me but kudos for trying.
Next to the title track from the new album, 'Serotonin', which although picking up about two thirds of the way through, seems to sap the energy out of the room. Of course, a die hard section of the crowd are rapt throughout the gig. Although particularity where the songs are less familiar, the poor acoustics ruin what could have otherwise been a kick ass show. Even familiar favourite "Young Love" sounds awful to me. The gig does get better as time goes on perhaps as the ear adjusts to the surroundings and by the time we reach "Two Doors Down" the whole place is bopping.
Earlier this year, I saw Cherry Ghost at St Phillips, a much smaller church, and it added to the atmosphere but I'd think twice about watching a band at the cathedral again. Nevertheless, it is a testimony to the Mystery Jets brilliance that they create some high points in the face of what could have been a total disaster.