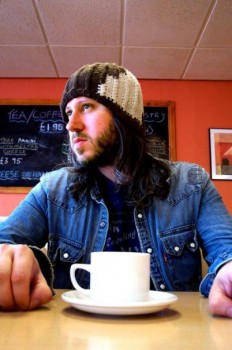 – ROYAL NORTHERN COLLEGE OF MUSIC, MANCHESTER –
'Silent Sigh' is one of the most beautiful songs written in the last 20 years and I am giddy with excitement as Damon Gough, AKA Badly Drawn Boy, sits down at the piano to play those first celestial notes. The mood is tempered, somewhat, by the fact Damon has just had a slanging match with a member of the audience about the more temporal issue of Wayne Rooney's mooted move away from Old Trafford. Various comments pass backwards and forwards about Rooney resembling human faecal material who wouldn't even be welcome to grace the pitch at Damon's beloved Eastlands and that said audience member needed to get back down the M1, pronto, to London… where all the other Man Utd fans live.
Suddenly the salubrious banked seating of the Royal Northern College of Music transmogrifies into a football terrace and I have half a worry it's going to proper kick off. Then BDB (as opposed to MUFC or MCFC) sits down and plays Silent Sigh straight through and it is as impossibly gorgeous as ever, as if nothing had happened.
It's only one of several contradictory, buckling moments during the night. Damon is strangely self-deprecating (and says as much himself). He will get to the new album 'It's What I'm Thinking Part I' in a while, he tells us early on, but has to play the old "shit" songs first. And he does indeed pile through tracks from his first two albums and the soundtrack 'About A Boy', accompanying himself on guitar and keys, and yet the quality of those "shit" songs positively shines through the darkness of this autumnal Mancunian night.
Other examples: he fesses up to a lack of technical ability and indeed has to stop one or more songs and start up again; and when he is joined by his band it looks like the maths club of the local comprehensive has ended early. However the songs remain as warm and deep and mellow and urbane as ever they were. And when he's joined on stage by his daughter, singing and playing the piano, it's a genuinely special moment.
He says his earlier songs sound "sad" to him now, yet it's the songs from the new album that are darker, bleaker, like some serious stuff has been happening in BDB Land. Indeed, after singing some of the newer songs, and experiencing a few technical issues, Damon leaves the stage completely – to have a fag, he says to the crowd – but evidently to get his head back together. It's a hometown gig for BDB even though he himself feels compelled to add he's actually from Bolton. That just about sums up the contrary nature of the evening.
All in all a strange, contradictory night of fabulous music, chaotic presentation and simmering anger. To be honest, in a world of slick, PR-rinsed artists it's quite refreshing to be involved with such an organic and unpredictable concert. Quite what is going on underneath Badly Drawn Boy's beanie, however, is up for debate. Certainly the audience leaves pondering the subject Damon has raised himself with his new album: just what, exactly, Badly Drawn Boy is thinking. Maybe the answer will come in parts II and III…