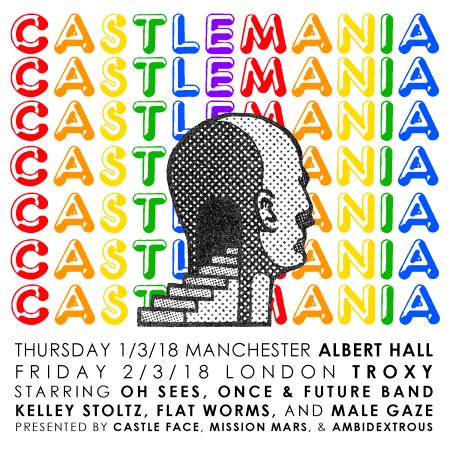 May we present a one-two shot to the ribs from the Castle Face Records roster, a Thursday in Manchester, a Friday in London, spearheaded by those indefatigable and indispensable Oh Sees, a live force to be feared. Joined by white mages of healing and appealing frequencies Once and Future Band, underground pop wunderkind cum laude Kelley Stoltz, feedback-tipped missiles of love and boredom Flat Worms, and the fuzzed-up goth pop stylings of Male Gaze.
Thur 1st March 2018 – Manchester – The Albert Hall – alberthallmanchester.com
Fri 2nd March 2018 – London – Troxy – stargreen.com
Check out the Soundcloud playlist taster here.
Castlemania