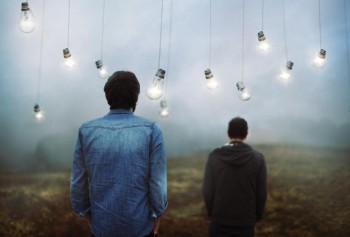 – THE DEAF INSTITUTE, MANCHESTER –
I'm standing at the back (or the back of the standing area, in front of the steps/seating area) but am drawn to the front when Leeds based FOSSIL COLLECTIVE begin by a strong urge to check out a rather intriguing bass instrument.  It looks, is played and also sounds like the strings you might have on a double bass but it is standing upright on the floor without the body.  I am told that this is an electric double bass and isn't that amazing.  But it is.  It is also necessary to come to the front to see this as their set up is not what I am used to seeing either.  The bassist and guitarist are at the back in the usual drummer assigned spot whilst the drums are set up on the front right with lead vocalist and guitarist in the middle, with keyboardist to the left.  This front row are all singing and there is a lot of beautiful harmonising throughout this set.
The guitarist to the rear also sings, but I'm not sure if he has a microphone.  The power of all these voices produces a very folky effect.  The lead voice however is really something.  Midlake is mentioned by means of a comparison.  The sound really fills the whole room whilst at the same time being very mellow, warm and easy-listening.  I've been suffering the inevitable illness that comes with the changing of seasons and this is really a very pleasant and gentle kick back into society.
Fossil Collective use the same quiet/loud contrasting which I was enjoying earlier from support act LUKE SITAL-SINGH, in some parts it gets so quiet that you almost hold your breath, but at the same time you can hear all the humming and whirring of the venues fans.  I particularly like their experimentation with an unplugged style song which kicks back in to full band antics for the ending.  In general there is quite a melancholic mood to the music but the band make a joke of trying out more upbeat tracks which really suit them.
They do a cover of Frankie Goes to Hollywood's 'The Power of Love' and I have a real sense of familiarity and recognition when they play their final song, thinking it must be another cover, but it actually turns out to be their single 'Let it Go' and it inspires dancing at the front from crowd members.  I can't think where I've heard it before, but I obviously have and it's stuck; it's definitely a good single and a good ending to the gig.
You can download Fossil Collective's four track EP for FREE here so check them out, what have you got to lose?