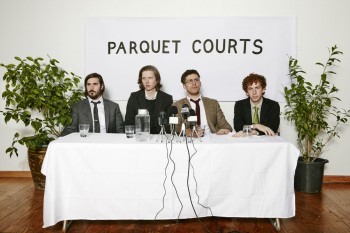 – ACADEMY 2, MANCHESTER –
285 Kent-by-way-of-Texas pseudo-slackers Parquet Courts have been consuming culture at an unnatural rate and spitting it back out just as fast since 2011 in an endless effort to move beyond prescriptive expectation and reflect the great distances between humanity and the claustrophobia of the concrete world, but according to bassist Sean Yeaton as the band take to the stage of Manchester's Academy 2, they're still wearing the same clothes they wore on their first visit to the rainy city.
Instruments are manned and the room struggles to contain itself as Yeaton goes on to challenge the audience for requests – suggesting 'Purple Rain' and 'Enter Sandman as apt choices before subdued, cubic sonics are traded between co-frontmen Andrew Savage and Austin Brown – calming the crowd into a near-meditative state. However, broken horses are finally set free in fits of walls-closing-in panic as the exchange bleeds into Sunbathing Animal's 'Ducking and Dodging' that sees Savage screaming of velvet cages, letters written in code and grinning, creeping fog – refusing to stop for air or allow reflective respite.
"Sometimes my thoughts are infrequent explosions," broods Savage as his endless-staircase-of-information leads us to the office-cubicle acid trip that is 'Paraphrased', but infrequent feels like a poor choice of words as the evening plays out like a stream of nicotine-withdrawn, shotgun consciousness. 'Berlin Got Blurry' highlights Savage's technology-fearing anxieties in an ode to loneliness – channeling technicolored spaghetti-westerns and acting as a bridge between the band's native sincerity and "Big Apple" cynicism. 'One Man, No City' challenges the concept of objectivity against a backdrop of die-hards crowdsurfing to Casiotone MT-520 bongo rhythm. Slow-dirge doom ivies the rapid-eye-movement feedback rolling off the back of Human Performance cut 'Dust', and although the central message of the household-purgatory ballad is that you should sweep in order to save yourself from the suffocation of modern living, I can't help but feel that the track stands as a band manifesto – instructing the quartet to wipe the slate clean whenever a solid impression of the over-productive Brooklynites threatens to settle.
As swarms of plastic hippies fight their way out of the exits following the marathon 20-song set, one semi-naked, semi-drunk devotee chooses to stand amongst the wreckage of miscellaneous garbage and loose teeth – stunned and swaying, as if ego was lost in the throws of the evenings dadaist listlessness and he's waiting to feel the same way he did beforehand. For some, tonight's show didn't act as a visit to church, but a baptism.
Parquet Courts  Official | Facebook | Twitter | Youtube