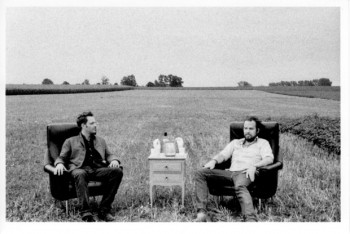 Drone/modern classical duo A Winged Victory For The Sullen have released a live video, recently filmed in Brussels. This is the first live clip of the band to surface, following their self titled debut album, which was released on Erased Tapes last month.
The clip is taken from the band's first live radio session shot in former Sparklehorse and current Stars Of The Lid founder Adam Wiltzie's present home town.
The song is fittingly called 'We Played Some Open Chords And Rejoiced, For The Earth Had Circled The Sun Yet Another Year' and was recorded courtesy of Studio Brussel. This clip should whet appetites ahead of the duo's plans to tour the UK in early 2012.
A Winged Victory For The Sullen came into being as of four years ago. On May 24th 2007, in Bologna, Italy, Adam was on tour and playing with the late Mark Linkous and his beloved Sparklehorse, on what would be their final European tour. That night Adam invited friend and colleague Francesco Donadello to see the concert, and Francesco's guest this evening was composer Dustin O'Halloran (Sofia Coppola's 'Marie Antoinette' O.S.T.). Through a strange twist of backstage conversations surrounding passport cache conundrums, and love of Italian gastronomy, a curious friendship began that now has brought forth an offspring of truly curative compositions for the world to savour.
'A Winged Victory For The Sullen' also features guest musicians Icelandic cellist Hildur Gudnadottir, as well as Erased Tapes label comrade Peter Broderick on violin.