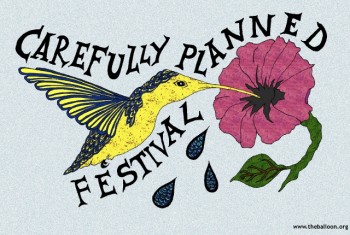 A Carefully Planned Festival is to bring more than 60 national and international acts to Manchester's Northern Quarter for a weekend of live music, all for just a tenner.
Spread over four intimate venues, the event will see some of the most interesting and cutting edge bands from across the UK take the stage for two all-dayers on Saturday 15th and Sunday 16th October. Highlights from the line-up include the much-hyped Crash Of Rhinos, Mammal Club, Loose Talk Costs Lives, Vasco Da Gama and Alt-J, all of which are guaranteed to attract significant attention from anyone with their finger on the pulse.
Joining them is some of Manchester's finest talent, including The FTSE 100, Help Stamp Out Loneliness, Christopher Eatough, and Onions, whose local reputation is sure to draw a crowd. Carefully Planned is also proud to present some very special guests, who have recently created quite a stir in the music world. They will take the stage in the Castle pub on Saturday, although their identities will remain firmly under wraps for now.
Founder of Carefully Planned Matthew Boycott-Garnett explains: "It's more a special treat for those already making the investment!" But A Carefully Planned Festival is just as much about a warm and friendly atmosphere as it is about the music. Matthew has been organising shows since 2007 and, since then, he has put on numerous well-attended events.
The extra attention he gives to getting the tone just right, and his efforts to keep ticket prices low has seen the popularity of Carefully Planned gigs grow exponentially through word of mouth alone.
Matthew explains:
"Of course people ought to enjoy the music and the performances, but there is so much decent music in this country that booking the bands is the easy bit. Finding the right audience and creating the right atmosphere is much harder and is something that has taken me years to get right."
"A Carefully Planned Festival is a celebration of my four years organising events. If you like good people and you like good music, you'll really like this. I'm very excited."
Performances will take place from 15:00 on Saturday 15th in the Castle Pub, Gullivers, Centro and Cord, all within a few minute's walk of each other in the Northern Quarter.
The full line-up is available on the Carefully Planned Festival website where the music can be sampled on a playlist.
Weekend tickets can be purchased in advance for £10 from http://www.wegottickets.com/event/136750, or day tickets are available on the door for £7.