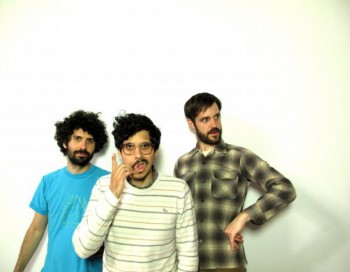 – CENTRAL METHODIST HALL, MANCHESTER –
"Is this the right place?" A gent with a check shirt enquires from beneath the overhanging bristles of his russet beard. We're between a pawn shop and a gigantic wig emporium on Oldham St, just facing Afflecks, and yep, we really are in the right place.
Plenty of others have found their way here already and are cocking a curious collective eyebrow at Anticon's latest signing, Young Fathers. The Edinburgh quartet are hemmed in between the two drumkits which are needed by their illustrious label mates later on, with the main trio of Alloysious Massaquoi, Kayus Bankole, 'G' Hastings practically falling over each other to vent their spleens with semi-choreographed shoves and hijinks.
They're augmented in the background by what must be Mark Kermode Jr, who hammers a drum from time to time, completely obscuring the beats with his thunder-fisted pounding. They leave on a high, Kermode Jr crouching out of view while we're treated to a more soulful string to their bow, and the band descend from the stage while still singing its "inside of me's burning" hook.
The main room of the Central Methodist Hall is cavernous; presumably a former theatre or cinema before it was damaged in WWII, the venue is taller than it is long, its ceiling a vertiginous 50-foot or so high, and its conversion to a House Of God – and a particularly abstinence-adhering branch at that – means that beverage choices are limited to fizzy pop or bottles of water.
It could be down to this sober atmosphere that things just don't feel quite right from the off for Why?'s first visit to Manchester since a triumphant turn at the Deaf Institute a couple of years back, either that or because they open with 'Jonathan's Hope' from their freshly minted, but still unfamiliar, 'Mumps, Etc' album.
Yoni Wolf paces back and forth as his lyrics tumble nasally out, his white vest and droopy quiff combo marking him in appearance somewhere between Freddie Mercury and Prince, but he's cold to the extent that he barely makes eye contact and doesn't say two words to the crowd until he greets us with a belated "Hello Manchester, I'd rather it was Ladychester, but that's just a personal preference…" before they trot out 'The Hollows' a whole nine songs in.
Of course, there are highlights. 'The Vowels Pt. 2' sees Yoni air-grabbing each letter of the chorus as though he is picking them ripe from an alphabet tree, 'Crushed Bones' the opening track from '05s 'Elephant Eyelash' LP, and the more contemporary 'January Twenty Something', in which Josiah Wolf and his percussion counterpart, Ben Sloan, hammer vibraphones like cartoon villains trying to run on an oil slick are all flawless.
However, it's an awkward, non-flowing performance with an obtuse set list. Going through the motions, perhaps, but Why?, and Yoni in particular, are capable of so, so much better.