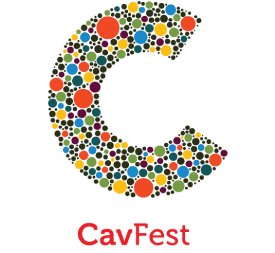 – CAVENDISH PRIMARY SCHOOL, MANCHESTER –
Now normally when primary schools have fundraisers, the most exotic it gets is throwing soggy sponges at the headmaster in the playing fields outside.  However, this is Manchester and at Cavendish Primary in Didsbury, they do things a little differently.
 The school site manager was once a guitarist in The Fall (although we've probably all had a stint doing that in our time) and two years ago he created… CavFest – a music festival that takes place within the school grounds.  The likes of James and Inspiral Carpets have previously played and £9000 has been raised thus far, all of which has been used to support arts and music at the school.  This year, music comes from the likes of The Rainband, The Suns, The Minx, Clint Boon and The Whip, with the beany-hatted Badly Drawn Boy up last.  Aside from music, there's also comedy, music workshops, kids yoga and many other arts and crafts to get tucked into.
I should explain at this juncture that I don't have children at the school (although friends do).  My own children come in two pairs: a set of boys that are 11 and 12 and a mixed set of a boy and a girl, who are 3 and 5.  In all honesty I probably left the wrong set at home.  The older two, both at high school, love music and are in bands themselves, but on arrival at around 3pm on a gorgeous autumnal day it quickly becomes obvious that the festival-style activities were geared more to its primary cohort – face painting, cake decorating and such like.  And that's fine, of course – Cavendish is a primary school after all, and even having said that, there is also a climbing wall and a penalty shoot-out, which did interest them a little more.
And for the older children still (I am a 43 and still a student, so I include myself in this bracket), we have the ever elastic wonders of the beer tent (well stocked but soon boasting of a queue longer than the exit queue from Manchester during the Tory Party conference).  I also enjoyed the company of my Didsbury-dwelling friends, with their own progeny at this fine institution.
Of course – aside from the festival-ities – CavFest is about the music.  Upon arrival, the first band up are Seventh House and in a well laid out, well organised festival (for once!), they are soon followed by The Slow Readers Club, with something of The Killers about them.  They are, in turn, followed by The Suns – in Reservoir Dogs sharp suits, and sharper riffs – blasting through a kind of surfs-up set that blended The B52s with The Shadows playing spaghetti western soundtrack tunes.  The singer interchanges blasts on his harp with kind of Elvis mumbles.  Fangyouverymush.
The lads and I spend a gorgeous afternoon strolling the grounds, checking the bands, checking the tents. There's a lovely vibe about the school and personally, as a relocated-Londoner-ex-university-of-Manchester-student-who-stayed-put-and-slowly-moved-to-the-southern-burbs, it is endlessly amusing, when in Didsbury, how much the people I bump into either genuinely is a friend of mine, or else looks like they may be.  I think we all get given a middle-class, middle-aged uniform when we move to these parts.
As I am avec enfants we have to leave before Badly Drawn Boy; a shame, as I wanted to see if he would indulge his usual angry antics to a crowd themselves more suited to such juvenile tantrums.  Love his music, always, but you'd never get that behaviour from his hero, Bruce Springsteen.  Instead, I set the boys the task of writing their first gig review, partly lifting the weight from my shoulders after nearly two decades at it.  Kid A reports: "A very good festival with great music that was very entertaining… 4 out of 5 if I were to score it".  His brother adds: "I liked CavFest because it was fun just putting a rug down on the field and listening to the wonderful music playing."
Pens down, lads.  And guitars out.  Even the message from the headmistress fails to kill the rock & roll vibe.., kind of like the PM turning up to play 'Killing Me Softly' at the end of Love, Actually.  Only without Hugh Grant.  And cool.