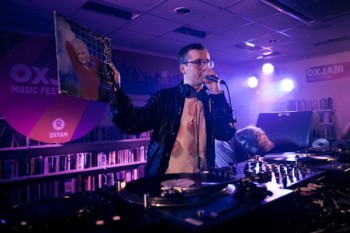 Oxfam and Domino have announced that Hot Chip will be continuing their DJ 'takeover' of Oxfam shops with a gig in the Oxfam Emporium shop, Oldham Street, Manchester on Saturday 13th October.
The Oxfam shop will give up its floor space to become an exclusive Oxjam shop for a one-off gigs, whilst simultaneously selling great second-hand music and clothing.
The shop will be converted into a mini-music venue, where Hot Chip will be playing exclusive DJ sets from 1.00pm – 3.00pm, for lucky fans who can get to the shop in time to see their heroes spinning vinyl up close and personal.
Following the huge success of the Hot Chip Vinyl Emporium party in London last week, which launched the Oxjam music festival, the band will invite local friends to join them on the decks to spin their favourite records. They will also be spinning some hidden gems they find in the shop before going on to headline at their own sold-out concert in the evening.
The band will also be helping the shop out with some exclusive merchandising by creating some "recommended by Hot Chip" racks of vinyl for fans to pick and choose from and will also be donating some vinyl to the shop from their very own collections.
Joe Goddard from Hot Chip said: "We really enjoyed kicking off the Oxjam festival last week by throwing our own little party and playing some of the quality vinyl found fresh from the shops racks. It'll be great to be able to do this again in Manchester and Glasgow, so we want to encourage as many people as possible to come down and join the party."
Andrew Horton, Director of Trading said: "Sales of second hand music in our shops has been steadily growing, as we are increasingly seen as a destination of choice for uncovering rare and valuable vinyl. So we're really pleased that Hot Chip are echoing this with these exclusive Vinyl Emporium parties. Donations are the lifeblood of Oxfam shops and so we would encourage anyone planning on coming down to dig out their unused records which can then be sold to support our work worldwide."
Hot Chip will be playing the following UK dates in October:
THU 11 OCT – BIRMINGHAM, O2 ACADEMY with Disclosure
FRI 12 OCT – GLASGOW, O2 ABC with Disclosure
SAT13 OCT – MANCHESTER, ACADEMY with Disclosure
MON 15 OCT – BRISTOL, O2 ACADEMY         with Django Django
TUE 16 OCT – SOUTHAMPTON, GUILDHALL with Django Django
THU 18 OCT – LONDON, O2 BRIXTON ACADEMY – SECOND DATE ADDED with Rustie
FRI 19 OCT – LONDON, O2 BRIXTON ACADEMY with Django Django
The Oxjam festival runs throughout October with hundreds of fundraising music events put on by volunteers across the country, with a passion for music and charity.
Gigs range from large-scale festivals to local sponsored busks, combining to produce the biggest line-up of any music festival in the UK.
During October, more than 800 venues, 9,000 volunteers, 7,000 musicians and 150,000 audience members will enable Oxjam to raise at least £350,000 for Oxfam's work.
Oxjam's flagship events are the Oxjam Takeover – multi-venue, wrist-banded festivals that take place across the UK. This year, Takeover events will take place in the following locations in Scotland: Aberdeen, Glasgow, Edinburgh, Falkirk, and Shetland.
To find out what Oxjam events are going on in your area this October, visit www.oxfam.org.uk/oxjam or call 0300 200 1255