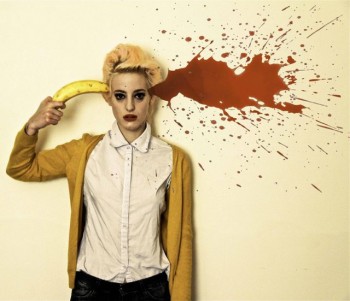 – THE DEAF INSTITUTE, MANCHESTER –
On a typical early autumn evening (28 degrees, hello?) I wait for my sister outside Sand Bar enjoying a cold pint, almost dreading the prospect of a static folk gig in a warm, crowded club. I know little about Stealing Sheep and Beth Jean Houghton so that is the impression I create in my mind, but decide to approach the gig with an open mind and feel ready to be pleasantly surprised.
As we enter the Deaf Institute the entire audience are seated and the support group Stealing Sheep, sport long, flowing, paisley dresses and Joni Mitchell middle partings. The signs are not good.
Another drink is in order, this is going to be hard work I think. While at the bar Stealing Sheep start to perform, a girl duo, one on synthesizers, the other electric guitar, at first sight, look uninspiring, but their vocal harmonies combine to beautiful effect, that seems like a chant and has a monotone quality that is as steady as a heartbeat. They are cute together, and share little smiles when they make eye contact as though they are desperate not to laugh and can't  believe that people, were stood, or should I say sat, listening to their music. They work really well together and the use of synths and electric guitar adds a modern spin to their folk vocals.
As Stealing Sheep work through their set, that is quite samey in parts (I go to the toilet, come back, and can't tell if they're singing a different song) I begin to wonder what other duos, specifically female duos, work well together, and the most obvious one, that springs to mind is, Salt and Pepa. I decide that Stealing Sheep are like a folk version of Salt and Pepa, and whip out my notebook to write this down. But, on reflection, Stealing Sheep have more in common with Salt and Pepper with an 'r' than Salt and Pepa with an 'a'. They are incomparable but that's obviously a good thing.
They are a suitable introduction for Beth Jean Houghton and thankfully the assembled crowd stand for the main act, who become 'Beth Jean Houghton and the Hooves of Destiny.' Incorporating a band for her live shows is always a good sign that she understands the need for a fuller sound when playing live. They start loudly, the fault of a dodgy sound system, and following short shrift from Houghton it is sorted out. Her vocals are arresting and immediately catch my attention, she is beguiling as an entertainer, a strange mix of vulnerability and strength.
A few songs in and she introduces her new single, Dodecahedron, and asks the audience, Does anyone know what a Dodecahedron is? Silence. Then a meek voice says "It's a twelve sided shape" she thanks one half of Stealing Sheep for breaking the silence. At least she knew, after a month of touring together, it must have come up at least once. The song comes alive thanks to her voice, which is beautifully pitched and doesn't need a band to strengthen it.
"Can anyone burp on demand?" she says. A surprising change of tack, a sign this girl has clearly spent a lot of time on a tour bus with three boys. Again: silence. "I'd be sick" I shout. Burping on demand can have this effect, especially after consuming a beer and a pizza as I just had. "Come on" she said, undeterred "Let's try a mass burp, how often do you get the chance to do a mass burp?" as she promptly lets out a massive three tiered burp. On demand. This girl is good. She provides the inspiration for the audience to give it a go and a mass burp ensues. It reminds me of that cheesy Nikon advert where Robbie Williams gets everyone to take a picture at the same time and is blown away by thousands of flashes going off at once. We are blown away: by mass flatulence, not quite the same.
Audience interaction doen't end there, her last song is a cover of Madonna's Like A Prayer, I think, it would be fair to say this is one of Madonna's best songs and a sure fire winner with my sister and I, as we had a full size poster of Madge from the Like A Prayer video in our room and I wouldn't be surprised if BJH had one too. "There's going to be a dancing competition to this song" she says, "Whoever wins, gets a tote bag".
Not one to be beaten, I throw myself in to the challenge and hope my moves are appreciated, even incorporating the "A-ha" gospel vocals in to my routine. We didn't win. "We would've won if they weren't in front of us" I say, a little gutted. None the less a lovely, upbeat end to a decidedly fun gig. I am pleasantly surprised and receive a runners up prize of a signed poster, which read 'Emma! Thanks for caring x'. I do more than care; I am a little bit in love.