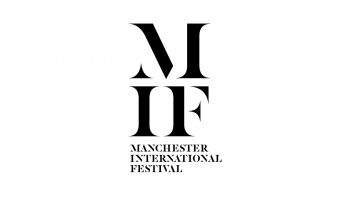 Manchester International Festival (MIF) is the world's first festival of original, new work and special events, staged every two years in Manchester, UK. MIF this year takes place from 29th June to 16th July 2017 at venues all over the city.
For MIF's Live at the Pavilion Theatre at Festival Square, Salford's foremost festival Sounds from the Other City and legendary London producers Serious will present a packed programme of live music each Wednesday to Sunday during the festival. Sounds from the Other City focus on left-field and alternative pop, jazz and electronica, while Serious bring a truly international touch with music from Brazil, Colombia, France and the UK. Recently announced to appear are William Basinski, and Amnesia Scanner, as extra special additions to the line-up. Check out the info snippets on the artists performing below.
The powerhouse vocal trio of LaDonna Harley Peters, Sharlene Hector and Vula Malinga that are LaSharVu are bringing their tremendous live show to Manchester for the first time. Having performed individually or collectively with some of the world's biggest artists – from Mary J Blige to Madonna, Sam Smith to Sam Sparro, Primal Scream to Basement Jaxx (for whom both Hector and Malinga are lead vocalists), they will be a suitably thrilling start to MIF17's Live at the Pavilion Theatre series.
Legendary Chicago house DJ Frankie Knuckles once astutely described house music as 'church for people who have fallen from grace' – and this festival is a chance to hear just what he meant, with an outstanding collection of singers and musicians including, London's House Gospel Choir who marry the spirituality of church music with the euphoria of the dancefloor. For MIF17, the choir will be elevating some of the biggest house music hits of the 1990s into a joyful gospel set.
From MC5 to Suicide, Neu! to Nuggets, you can hear Hookworms' record collections in their own releases – but even so, there's no one out there who sounds quite like them. Hailing from over the Pennines in Leeds, the psych-rock quintet have won a well-earned reputation for their vital live shows, and will be mixing cuts from acclaimed album The Hum with new material at this intimate gig in the Pavilion Theatre. Opening the evening, Melbourne-born, Berlin-based singer Carla dal Forno, will be playing tracks from her dark yet dreamy release You Know What It's Like.
"I try to stay in the moment – and the moment is eternal". William Basinski's words perfectly capture the melancholy timelessness of his music – most famously on The Disintegration Loops, a stunning, slow-burning collection of degraded tape loops released in the wake of 9/11 that serves, even today, as a lullaby for the apocalypse. Six years after he collaborated with Antony on the music for 'The Life and Death of Marina Abramović' at MIF11, and two years after his last sell-out show in the city, the musician and sound artist returns to Manchester with his beautiful new release A Shadow in Time. A Shadow in Time features a singular and personal tribute to David Bowie. A rare UK show by a true American original.
'Bokanté' means 'exchange' in Creole, the language of singer Malika Tirolien's upbringing on the Caribbean island of Guadeloupe. It's the perfect name for a gloriously singular new project that unites three members of stupendous jazz musicians Snarky Puppy (Michael League, Chris McQueen and Bob Lanzetti), pedal steel wizard Roosevelt Collier, a trio of percussionists and Tirolien's exquisite vocals into a genre-crossing fusion sound, with equal echoes of delta and desert. Touring their debut album Strange Circles, Bokanté will surely be playing much bigger venues before long – so catch them here first.
You may have heard Christophe Chassol performing on Frank Ocean's recent album, but the maverick Parisian pianist and composer has many other musical and cinematic strings to his bow. At this show, a Manchester exclusive, he'll be performing live with two of his own films: the UK premiere of 'Six Pianos', set to Steve Reich's hypnotic classic, and 'Indiamore', a project for which Chassol used sounds sampled and collected on the streets of India as a jumping-off point for his own compelling and deeply evocative music. One of modern music's true one-offs.
Liverpool electro trio Stealing Sheep have developed a sound entirely their own across their first two albums, Into the Diamond Sun, and Not Real – and you can hear how they've taken it a step further on their third release for the very first time at MIF17. In the run-up to the Festival, the group will be taking up residency at Salford's Islington Mill with Samarbeta, where they'll be creating a very special multimedia show: Luma Disco will feature dance, experiments with light and exclusive new tracks. The residency culminates in this MIF exclusive performance.
Between the lines of theatre, cinema and the technological innovations of nightclubs, Amnesia Scanner (AS) (INT) present the stage as a living organism with their live show. They call it Xperienz – a totally-enveloping spectacle. The group collaborated with fellow MIF17 artist Holly Herndon on her excellent 2015 album Platform, then followed their first intense mixtape with debut EP AS (Young Turks) in March 2016: full of complex structures, supernatural landscapes and dense sounds, yet at the same time very much dancefloor-friendly.
Hugely precocious and astonishingly prolific, Kiran Leonard had compiled a rich, varied and brilliant catalogue of music even before he celebrated his 21st birthday last year. Now, the Saddleworth native is bringing his new art-and-music project to Festival Square. Song of the Husband was discovered by archaeologists during a recent expedition to an unnamed planet in a distant solar system. Life once thrived on this faraway planet, but all its civilisations have long since been wiped out. Says Leonard, Song of the Husband "is living evidence of what artists have to say when their world is dying, in response to problems that cannot be understood, reasoned with or overcome".
Mercury Prize-nominated Portico Quartet have always been an impossible band to pin down. Sending out echoes of jazz, electronica, ambient music and minimalism, the group have created their own singular, cinematic sound over the course of five albums, from 2007 debut Knee-Deep in the North Sea to the recent, brilliant Living Fields. Now rebooted as a foursome after a brief spell as a three-piece, the group will be performing new material and back-catalogue gems at this one-off Pavilion Theatre show.
La Mambanegra come from the thrilling Colombian city of Calí, widely regarded as the salsa capital of the world ­– but their music travels far beyond salsa tradition. Fusing the distinctive rhythms and irresistible horns of classic salsa with elements sampled from funk, hip hop, raggamuffin and Nuyorican fusion, Jacobo Vélez's nine-piece band create a full-throttle, floor-filling fusion sound all their own. They call it 'Colombian break salsa'¡Vamos!
Hailing from Rio de Janeiro but now based in Paris, nomadic singer-songwriter Flavia Coelho has won huge critical acclaim for her distinctive and delicious blend of samba, bossa nova, hip hop and a whole lot more. Bossa Muffin, her first album, was described by The Guardian as 'one of the most joyful, easygoing fusion sets of the year'. Sonho Real, Coelho's latest release, takes her unique sound a step further – and you can see her perform songs from it at this MIF17 exclusive set, her debut show in Manchester.
Live at the Pavilion Theatre ramps up to a close with a Sunday afternoon double-header starring two of the best live acts out there today. First up, there'll be a set of beguilingly twisted pop created by Rosa Walton and Jenny Hollingworth, a pair of 18-year-olds from Norwich collectively known as Let's Eat Grandma. They'll be followed by Macclesfield's magnificent Spring King, whose exhilarating live shows are fast becoming legendary among all those lucky enough to catch them. A double bill that's not to be missed.
LISTINGS INFORMATION
Serious presents:
LaSharVu – Fri 30th June
House Gospel Choir – Sat 1st July
Bokanté – Thur 6th July
Chassol – Fri 7th July
La Mambanegra – Fri 14th July
Flavia Coelho – Sat 15th July
Sounds from the Other City presents:
Hookworms + Carla dal Forno – Sun 2nd July [presented with Grey Lantern]
William Basinski – Wed 5th July [presented with Now Wave]
Stealing Sheep: Luma Disco – Sat 8th July [presented with Samarbeta]
Amnesia Scanner – Sun 9th July [presented with NTS]
Kiran Leonard: Song of the Husband – Wed 12th July [presented with Hey! Manchester]
Portico Quartet – Thur 13th July [presented with Fat Out]
Spring King + Let's Eat Grandma – Sun 16th July, 3pm [presented with Now Wave]
Catch all these Pavilion Theatre music shows 7.30pm except where noted
Tickets £12 (EXCL FEES)
Tickets on sale now from mif.co.uk.
Under-16s must be accompanied by an adult