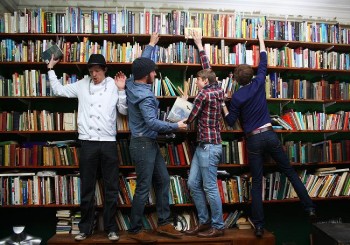 On Monday 10th of October, Mount Fabric will release 'Threads' on Hairy Wolf Records.
The second part of their trilogy of EP's, 'Threads' picks up from their last EP 'Secretly An Astronaut' and moves on from the theme of disillusioned hope to full blown depression.
Singer and lyricist Alex Marczak draws on his own experiences of paranoia, anxiety, psychosis and loneliness to fuel his blend of darkly euphoric songwriting, channelled through beautifully delicate yet sometimes savage vocals.
Musically, Mount Fabric have moved from the more polished sound of 'Secretly An Astronaut' to something more raw. The addition of a new band member has introduced laptops, keyboards, supporting vocals and more sonic gadgetry into the mix, allowing them to further explore their penchant for pushing the boundaries of their musical playground.
Recently described as "quite beautiful and thoroughly odd at the same time", Mount Fabric are not afraid to be different, nor do they particularly try to be. With appearances at Kendal Calling and Friends Of Mine festival under their belts this summer, as well as playing alongside acts such as The Phantom Band, Dum Dum Girls and Paris Suit Yourself in their native city of Manchester, the band are already making their mark. With another EP to follow, who knows where they'll end up.
EP Launch Party – 19th October at The Castle Hotel, Manchester W/ FOREIGN OFFICE & GOLDEN GLOW
Doors 8:00pm – £5 Advance