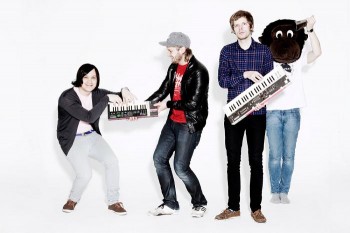 Ahead of their eagerly anticipated debut full-length UK release, 'Aabenbaringen Over Aaskammen' (set for January 2012 on Moshi Moshi Records), Norway's CASIOKIDS have announced their brand new single 'Det Haster!'  will be out on October 24th.
Backed with a remix by Of Montreal, the single precedes a November UK tour. The original track 'Det Haster!' (meaning "it's urgent") is available to download via the media player below.
Hailing from the celebrated music scene in Bergen, Norway – also home to Röyksopp, The Whitest Boy Alive, Ungdomskulen and Datarock – Casiokids have spent the last 12 months playing shows across North America, Europe, Mexico and Russia including being hand-picked by fellow Norwegians A-ha to support them on their last tour. The quartet were also recently nominated for a Spellemann Award (the Norwegian equivalent of a Grammy) and in amongst these events, they set about recording their long awaited album. 
Whereas their past releases, including 3 acclaimed singles, have been recorded quickly in locations as varied as guitarist Fredrik Vogsborg's father's office, the hallway of the Bergen Jazz Association, and an old canteen, 'Aabenbaringen Over Aaskammen' came to fruition at the band's own pace within their rehearsal space at the newly established Bergen Kjøtt (Bergen Meat). As a result, the record is much more cohesive than their collection of previous singles and unlike anything Casiokids have released thus far.
Forthcoming single 'Det Haster!' is testament to this, with its infectious harmonies, bubbling synths and electronically charged percussion; it is a refreshing and welcome return for the band.
See Casiokids live on tour in November:
21st Southampton Joiners
22nd Liverpool Shipping Forecast
24th London Shacklewell Arms
25th Brighton The Haunt
26th Nottingham Bodega Social Club
Casiokids are Ketil Kinden Endresen (Vocals), Fredrik Øgreid Vogsborg (Guitar), Omar Johnsen (Keyboards) and Kjetil Aabø (Bass).