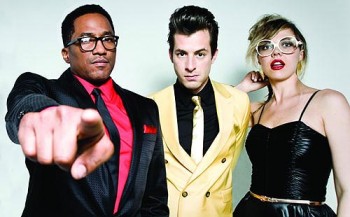 – ACADEMY 1, MANCHESTER –
Uniqueclectlic. That's the word for a Mark Ronson gig. Ok I made it it up. But this experience was unique and electric as the throbbing crowd at The Apollo get taken on tour de force ride consisting of 80s electro through to indie rock via hip hop.
Kick off begins with a Radiohead cover, slipping into the Kaiser Chiefs booting the room into life. This is the great thing about seeing Ronson live you'll hear songs you know and love but the interpretation is is masterfully reproduced so its sounds fresh and exciting. Odd then, that musically the only bit that didn't really connect, was "California" instantly recognisable from the O.C. but not developed enough here to add any va va voom.
Next a bit of comedy when one of his singers incorporated the following lyric into a chorus: "All you white girls shake it till my dick goes racist". Which when you think about it makes no sense at all but we love it anyway.
The only criticisms I can make are Mr Ronson seems slightly affected over using the word "motherfucker" (pronounced mother-fucka") and tells us how much coming to Manchester feels like home because of local traditions like The Hacienda.
Of course, the masses lap it up but I wonder what he's telling other gigs in other cities.
I feel like a suspecting wife but I love him anyway. Not like that though. We're treated to a genuine reminder of his roots, as a DJ, when he starts scratching and mixing tunes I don't recognise, his new blond fop jigging almost as much as we are. This almost yellow mop is an odd fashion choice for someone famed for his cool – he looks terrible – a bit like Christopher Walken in Live and Let Die only worse.
Another quirk: This is the only show Ive been to where one of the band is also the support act, Rose Elinor Dougal. And what a support act she was! Its a measure of Ronson's generosity as an artist that she had lead vocals on two numbers in his set – a less assured performer might fear being upstaged by such an enigmatic presence.
But never fear he held the crowd in the palm of his hand throughout and we all left happy with Oxford Road lit up with cries of single "I'm going to ride my bike until i get home".