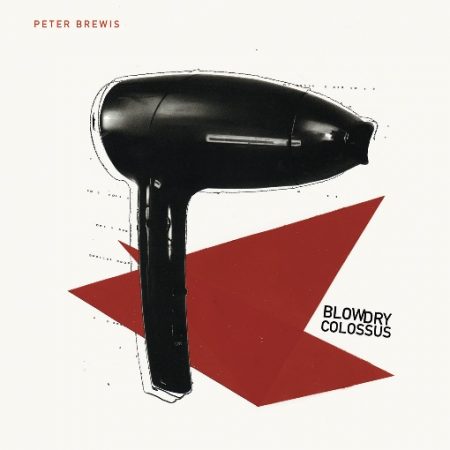 It is easy to imagine the Brewis brothers issuing a mutual challenge for 2023. Who can make a record that sounds least like Field Music. David was first out of the blocks with the early 70s singer-songwriter flavoured, acoustic and string quartet backed, 'The Soft Struggles'. Now, coming out of left-field, Peter has emerged with the primarily instrumental 'Blowdry Colossus' which combines the synth inventiveness of Yellow Magic Orchestra, the electronic/classical crossover craziness of Anna Meredith, elements of 8-bit computer game soundtracks, the thoughtful jazz tunefulness of Thelonius Monk and the abstractions of Penguin Café Orchestra. While Field Music's 'Building a New World' project contained short linking instrumental passages, this is the first Brewis venture into almost completely instrumental territory (bar one song with vocals).
'Blowdry Colossus' opens with 'Drumoscene' which offers a flavour of what is to follow. The synths predominate, building to the next level on a computer game feel, the guitar and bass progressions offer familiarity to fans of his previous work before giving way to an atmospheric, experimental synth runout.
'Lemoncadabra' is built around three contrasting sections: a Debussy-ish Juno chord sequence interspersed with an echoed Fairlight melody, a Latin jazz synth riff and an electric piano drums rock section. The latter suggests it is about to turn into a Field Music song before quickly remembering the challenge and shifting into squelchy futurism.
The title track begins with what sounds like a kitchen appliance making an unrecognisable entry for Lauren Laverne's 6Music breakfast show's house music feature before synths attempt to soundtrack a computer game about squeaky, scampering rodents. 'Second Hand Slow' blends recent Field Music forays into funk with primary colour synth flashes while 'Warm Wind' provides an Eno-esque interlude. 'Generation Dial Up' illustrates how what once seemed futuristic quickly becomes quirkily retro while throwing some New Jack Swing into the mix.
As the only track with lyrics, 'Dog Bark Dark' is the album's outlier. A song about a badly lit riverside path near his block of flats, it successfully sets out to build a coalition out of YMO, Quincy Jones, early 90s dance, Captain Beefheart and a guitar solo constructed out of what was imagined to be the discarded parts of Steve Miller's 'Abracadabra'.
'Smith Made Up' is elevated by bursts of flamboyant, jazz piano sprinklings. With crazed synth patterns, it makes for a frenetic dance number. The closing 'Panda Tonic' represents a significant change of pace and is unlike anything that has gone before, shorn of a rhythm track and consisting mainly of atmospheric, minimal piano with occasional electronic glitches.
Overall, 'Blowdry Colossus' is a joyfully, imaginative album that places a firm smile on my face. I cannot wait to see how the Brewis brothers respective solo records feed into future Field Music releases.
Peter Brewis: Blowdry Colossus – Out 6th October (Daylight Saving Records)