An idiot once said to me: "All the best trilogies come in threes".  I thought about it, and realised the idiot had a point.  This came to mind upon hearing what Damon Gough was planning to do next, for the bearded behatted one has cut quite the elusive figure of late.  Aside from the soundtrack to the 2009 movie The Fattest Man in Britain, his last studio album was the respectful nod to The Boss, Born in the UK, in 2006. Elusive, mysterious maybe, but perhaps you need to be when the songs are pouring out to such an extent that you've got enough for three albums.  A trilogy, if you will.  That's only what's gone and happened with Badly Drawn Boy, and back on his own label no less.
Photographing Snowflakes is the subheading of the first album in the trilogy, called It's What I'm Thinking.  Listening to the first track, 'In Safe Hands', is like wandering dream-like through a rambling old house, hearing a distant piano in one of the rooms upstairs, realising that's where Damon Gough has been all this time, masterfully crafting these introspective, reflective songs.  Much of the album does have that dream-like quality; somehow detached from reality, weaving acoustic guitars, haunting pianos, lush strings and melodies until they intertwine like the fibres of his very own hat.  It's lovely.  His voice is always understated but that makes you lean in to the songs, to want to really listen to what he's singing about.  He's crafty that way, but it works.  When he sings "I'm ready to be in love again" on Too Many Miracles, he could be singing about what made it all so exciting in the first place.
A special mention has to go to "I Saw You Walk Away", with shades of The Smiths and 'There Is A Light That Never Goes Out'; it's all played out with respect and has got to be one of Gough's finest, up there with 'Once Around the Block' and 'Silent Sigh'.
Photographing Snowflakes is not as accessible as his other albums; it's peculiar, it's melancholic, but it could just be the perfect album for autumn.  The secret of happiness is always having something to look forward to.  After listening to this, Parts Two and Three indicate there's a lot to be happy about.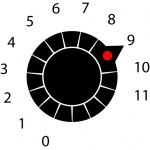 Release Date 04/10/2010 (One Last Fruit)