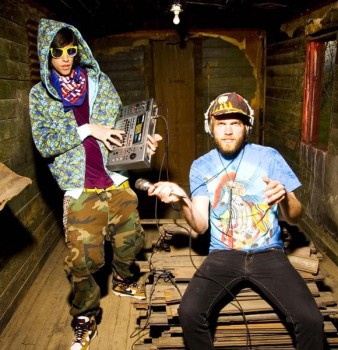 – ACADEMY 3, MANCHESTER –
Who said pop was dead? It's a drizzly September evening and the dancefloor of the humid broom-cupboard known as Academy 3 is seeing more action than Darren Day's grotty bedpost.
Scores of teenagers brandishing glowsticks, make-shift banners and Gladiators-style polystyrene headwear are foaming at the mouth at the thought of a night at a gig without Mum and Dad. Bieber and Gaga blare from the speakers, and a collective sing-along of 'Bad Romance' ensues as the whippersnappers compare neon face paint and sulk when the bar-staff refuse to serve vodka with their Red Bull. Snotty indie crowd, this is not.
L'amour la Morgue is the side project of perma-annoying Lost Prophets frontman Ian Watkins. Despite having a name that My Chemical Romance would sacrifice small animals for, the duo hunch behind mixers in LED-emblazoned gas masks and Watkins remains fairly inconspicuous for the first half of their set.
He and producer Sammy Jay have plied their trade in beat-heavy, grimy remixes rather than original material, mashing up – amongst others – the Beasties' 'Sabotage', Faith No More's 'Epic' and er, Sidney Samson's 'Riverside'. Jay jumps around like tattooed, Welsh Ronald McDonald commandeering a child's party, the audience obediently following their orders to "Dance!" by pogo-ing en masse into a circle pit.
As a result, 3Oh!3 have the crowd in the palm of their sweaty hands from the moment they bound onto the stage. Hailing from Colorado, the pair exude sunny American charm, albeit laced with goofy, schoolboy humour. "3Oh!3, You Give Me a Boner" pint-sized, better-looking half Sean Foreman squints to read one audience members' dog-eared sign "Me too" he guffaws "If I had a penis".
Band member Nathaniel Motte, by comparison, towers over him at 6'5. Like the love-child of David Schwimmer and Alanis Morissette, he flails his octopus-like limbs as they launch into 'Starstrukk', their radio-bothering duet with Katy Perry.
Last time they were in town, it was as Perry's support act at next door's considerably larger Academy 1, a fact that hasn't gone unnoticed with the band. "This is the smallest venue on the whole tour!" Foreman exclaims, and the crowd cheer manically as if not really being able to hold their own without the help of a latex-wearing pop vixen was a good thing.
And that's where the trouble starts. Despite a string of chart hits, without the likes of Ke$ha writhing around in need of a wash on 'My First Kiss', most of their songs descend into shouty dirge.
Heavily aided by a backing track, song after potty-mouthed song passes by with little impact, the impossibly young crowd frantically bouncing in unison like moths on a light-bulb. "Everybody say 'Fuck the clubs!"" they holler on 'House Party'. Funny that, as – nice as they seem – their swear-tactic humour and forgettable songs will likely see their next Manchester visit hosted in Janet from Crumpsall's living room. One for hardcore fans only.