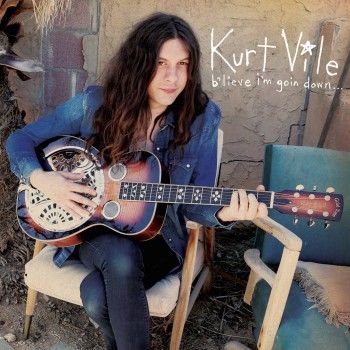 Within the first 30 seconds of b'lieve I'm goin down… we are once again fully acquainted with the languid, finger-pickin-on-the-ranch, meandering tendencies of Philadelphia's Kurt Vile. After a brief spell as member of The War on Drugs, he has been releasing solo albums for seven years, peaking commercially with 2011's Smoke Ring for My Halo and 2013's Wakin on a Pretty Daze. Both of those records honed his craft and streamlined his style, airbrushing out the wilder, garage rock elements that had been present in his earliest material. As a result, they also appeared to hone his audience, so that now with this release there is a sense that Vile has found the group of people to whom he wants to communicate, and with that comes a level of contentment. Those first 30 seconds become the 5 minute track 'Pretty Pimpin', which never threatens to deviate from the pattern of the last two albums. And that's the single.
The album's cover art tells the story for you – Kurt, clad in double denim, alone with his guitar, content. There are other players on the record, but they rarely get a moment's spotlight. This is a full throttle Kurt Vile solo album, made exclusively for the people who know what to expect. And there is a certain relaxed gratification with that fact that permeates the music; an inner peace now that Vile is able to express his natural self without the anxiety of having to compromise to find an audience. He has earned this moment, and he's gonna enjoy it.
For those who are not fully paid up members of the Kurt Vile fanclub, however, this album may prove frustrating. Several tracks set out a world-weary lyrical observation, but without so much as a hook or obvious development of a melody or chorus, before lapsing into a prolonged passage of languorous, rolling guitar noodling until we reach the 5 or 6 minute mark, at which point it's time for the next one. Perhaps the quintessential track is 'That's Life Tho (Almost Hate to Say)': it is the purest essence of Kurt Vile – a cynical, deflated worldview, too anaemic to be angry, too apathetic to resolve. "Ain't it, oh, exciting, the way one can fake their way through life/But that's neither here nor there", he sings, or rather mumbles. It's deliberate of course, but no less infuriating. It's not that there's a sense of going nowhere, it's that there's a sense of not trying to.
There are moments of light though. The track 'Life Like This' is refreshingly driven, and proves that Vile can still develop and propel a compelling track outside of his ultra-comfort zone. And the real outlier is 'Lost My Head There', even the title of which seems to imply that he let the energy levels dip a little too sharply. With its piano intro, and a bizarrely New Orleans-style skip to it, it is blessed relief. Suddenly the bassline becomes integral to a track for the first time, and other voices can be heard in the mix, albeit briefly. It feels genuinely collaborative, which is perhaps the key to its success. Vile's former band The War on Drugs offer a reminder that this style of retro, valley guitar music can still be vital when heard in a group context. Ironically, the track is the longest on the album, but justifiably so – it builds, gains momentum, adds new ingredients as it goes. It is the clear album highlight.
There will be nothing here to dissuade avid Kurt Vile fans, although even amongst them, it's hard to imagine this being anyone's favourite of his records. For the ambivalent or newcomers, the slow pace may be too exhausting to win them over. It will be interesting to see what Vile's next move is, and how much patience he is shown by his fanbase.
Release Date 25/09/2015 (Matador Records)
Kurt Vile Official | Facebook | Twitter | Soundcloud