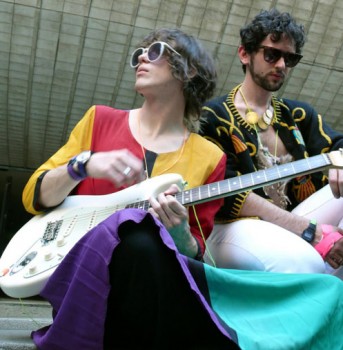 – APOLLO THEATRE, MANCHESTER –
Midway through 'The Handshake' a beer sails through the air and hits the drummer on the head. He glances over his shoulder, sticks his middle finger up at the unattentive, bored audience and, like the consummate professional he is, finishes the track. After which he again sticks his middle finger up at the crowd and storms off. The guitarist jokes: "Well that's Manchester isn't it?" Isn't it just?
Twenty metres ahead of them, just in front of the mixing desk, a bunch of ex-convicts behind me and to my right call me a "dialling dickhead" for looking at my mobile phone – I use it to write my reviews – and threaten to punch my head in (my molten lead-blooded girfriend's been winding them up too). I like the fact that they're protective, but their methods are unsound. Right in front of me is a tattooed American, who looks like he's come straight to the show from white phosphorusing Iraq, and his girlfriend, who has stripped down to her bra and panties. They are dancing wildly throughout the show while those around them stare blankly back at MGMT who are playing songs that either they do not recognise or do not like or both.
Back onstage the band stop playing. A few of them go off, Ben Goldwasser presses a button and him and Van Wyngarden do the pop star turn, launching into 'Kids' like Britney Spears miming to any of her songs, and the crowd emerge from their zombified haze and go fucking crazy. The twosome dance in an adorably geeky fashion. It is such a wonderfully upbeat song. A blazing, euphoric moment that, along with 'Time To Pretend' and 'Electric Girl', sets the night on fire.
These three tracks are unrepresentative of MGMT as a hole, and herein lies their predicament. Most people at these shows are here to hear these three tracks and nothing more. I can imagine MGMT feeling about that trio like Kurt Cobain ended up feeling about 'Smells Like Teen Spirit': imprisoned by the very songs that attracted the spotlight. Few care about 'Of Moons, Birds & Monsters', which features the best guitar solo this side of The Dark Side of the Moon, and even fewer pay attention as VanWyngarden sings "Your rhythm makes it light and explode" on 'Flash Delirium' as the hairs on the back of my neck stand on end.
To say something potentially sacrilegious, for me it feels like I'm witnessing something akin to Bob Dylan's 1966 tour of the UK when he ditched his "protest" folk for 'Like A Rolling Stone' to cries of "Judas". MGMT are spitting out some of the finest music in this millennium, and large swathes of the audience are acting bored to antagonistic. Why the fuck pay £20 to see them play three songs and talk through the rest? Why not save your money, and my sanity, and go to an indie disco instead? At least there you won't have to spend ten to fifteen minutes queuing at the bar, which has been done up to look like a set for a soft porn film set in Ancient Greece (I'm speaking about the newly refurbished Apollo Theatre here if it's not already clear).
With 'Kids' over, people are starting to file out, but 'Congratulations' follows to genuinely and generally enthusiastic slow arm waving. The encore comes on like a test. The holy trinity has been played and surely only the faithful fans will wait for the band to return? Roughly a third have gone by the time MGMT rock out for the first time on the last track of the night 'Brian Eno', and as the last notes die VanWyngarden does a deadpan single clap into the microphone to signal the end of the night.
With the abused drummer AWOL, Goldwasser looking aggravated, and a bemused crowd I'm left wondering who's really enjoyed tonight. Maybe just me and few of the dedicated fans at the front? And though MGMT are currently producing some of the best music in the universe, I don't envy their position after such a strange, strange night.