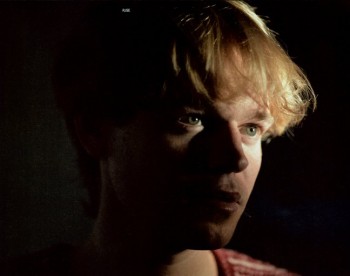 – THE DEAF INSTITUTE, MANCHESTER –
The musical landscape created by Connan Mockasin is full of childlike innocence and a sense of wide-eyed wonder. It's a world inhabited by Unicorns, Dolphins and Snats (a snake/rat hybrid in case you were wondering) all pitched against a backdrop of perfectly constructed, off kilter psychedelic pop. You would be forgiven for thinking that this may all sound a little unpalatable but it's executed with such panache and charm that it's pretty hard to resist, and tonight's show offers the opportunity for the audience to be drawn deeper into this whimsical wonderland.
Connan Mockasin invites the audience into the fold instantly. He's hardly strapped his guitar on and he has already managed to rouse the crowd into providing the animal like 'woo hoo's' which form the introduction for the first song of the set, 'Megumi The Milkyway Above.' We are barely a minute into the gig and the whole room is engaged in animal chanting without the slightest hint of self- consciousness. It's a thoroughly engaging and liberating opener.
Behind the apparent ramshackle nature of many of the songs tonight is a display of fine musicianship holding everything together. This is beautifully demonstrated on 'It's Choade My Dear' when Connan lays down a sweetly seductive, woozy guitar lick, backed by a murky bass line and loose pit-er-pat drums which bring to mind images of a smoke filled jazz club.
Connan's onstage energy and banter with the audience are a source of delight and entertainment throughout the evening. He gratefully receives various gifts from the front row while swigging from a bottle of red wine. At one point he sits on the edge of the stage swinging his legs before springing back into life to thrash at his guitar with his mop of blonde hair in his eyes during an epic rendition of the ten minute 'Forever Dolphin Love' which includes some awesome vocal acrobatics.
New song 'I Wanna Roll with You' bookends proceedings perfectly, once again relying on the all too willing audience to play their part with a simple but effective call and response. It marks the end of an evening where this unique artist has skilfully illustrated a sense of fun and playfulness without ever descending into novelty or comedy and where quirkiness is seamlessly woven into the music without ever feeling forced or contrived.