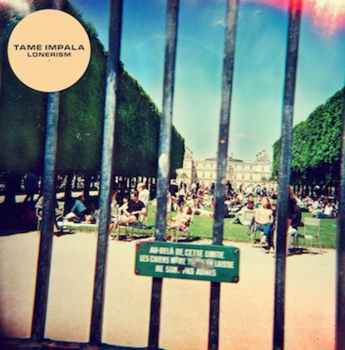 Modular Recordings is proud to announce that Australian psych warriors Tame Impala will return with their new album Lonerism, to be released globally this October 2012.
Again recorded and produced almost entirely by Kevin Parker in studios, planes, hotels and homes around the world, and mixed by Dave Fridmann (The Flaming Lips / MGMT), Lonerism's sound is not so much reinvented as completely redrafted and stretched way, way out. It's a quantum leap forward for the band, the seeds of which were sown shortly after their debut album 'Innerspeaker' was mixed.
Featuring twelve new songs, Lonerism's most apparent advance is in its synthesizers – there's swathes of them cutting melancosmic shapes across almost every track. There's still the searing guitar lines, bouldering drums, free bass and of course Parker's voice, but now there's heavily mournful pads and sunshine lead lines from an army of analogue explorers in the mix.
Lonerism follows on from their 2010 'Innerspeaker' debut which was welcomed by fans the world over and won Tame Impala many critical nods including both Rolling Stone Australia & Triple J's Album Of The Year, a top 50 placing in the Best of 2010 lists of Pitchfork and Stereogum, as well as a touring schedule with highlights such as Coachella, Glastonbury, Big Day Out and Roskilde.
The first official single from Tame Impala's hugely-anticipated sophomore album Lonerism is 'Elephant'. See the video here
Alongside this, Tame Impala give to you another taste of the new album with a free download of 'Apocalypse Dreams' that can be grabbed below.
Tame Impala will be touring throughout Europe and the US later this year.
Upcoming UK dates:
Tuesday 30 October – LONDON – Brixton Academy (£17.50)
Thursday 1 November – MANCHESTER – Ritz (£15)
Friday 2 November – SHEFFIELD – Leadmill (£15)
Saturday 3 November – GLASGOW – ABC (£15)