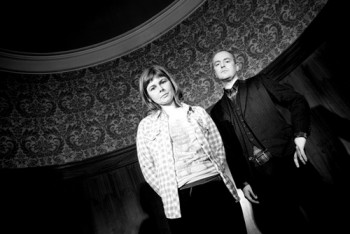 – THE DEAF INSTITUTE, MANCHESTER –
Managing to ram so many people into such a small space you can see how The Vaselines got their name (wince). Just on the off chance that there was any call for yet another petroleum jelly related pun when discussing the Glaswegian outfit…
The Vaselines, Eugene Kelly and Frances McKee, are yet another act of yesteryear to have reformed recently, though we're told that they did do a gig in Manchester in 2006. "And there were about fifty of you then", quipped a very grey looking Kelly, to a sold out Deaf Institute.
Although the band started out in 1986, they only lasted three years before splitting to take up various side projects. And, it's taken over 20 years, but they're back with a new album, Sex With An X, and they're on good form.
The opener came courtesy of fellow Glaswegians, Haight Ashbury; a folk/blues three piece consisting of a guitarist, and two singer/drummer/bass players. The guitar was tantalizingly scuzzy and went well with the stripped-down, ultra-basic bass and drum accompaniments provided by the vocalists.
Occasionally though, their vocals did tip over into a sound that resembled Evanescence. That wasn't so tantalising. And I often lost track of which song I was listening to, and found myself wondering whether I was still hearing the same long track or another that sounded very similar.
Following on from them, The Vaselines seemed to sneak on to the stage. They quickly reeled off a couple of tunes from their back catalogue, beginning with Oliver Twisted, which they followed immediately with The Day I Was A Horse.
And up until the end of the third successive track, Sex With An X, it seemed that we'd be looking at a straight, deadpan performance, but the between-song banter came once they'd warmed up and settled into their set.
Here we got a feel for the wit that flows though their music. On the surface it's innocent sounding indie-pop, but that gives extra bite to the underlying sardonic humour. At the same time though, it's delivered without condescension. We're in on the joke.
The new material stood up well alongside their classics, particularly the amazingly catchy Sex With An X, and I Hate The 80s, which I've been humming for days. Both of which can be downloaded free on their site. You know how to google.
But some of the more enthusiastic reactions of the night came as they played the tracks covered by Nirvana: Son Of A Gun, Molly's Lips, and Jesus Wants Me For A Sunbeam, which was testament to the peg-up the band received from Cobain's endorsement.
So, where do they go from here? They have a new label home with Sub Pop and it sounds like they've got plenty of fuel in the tank. But will we have to wait another twenty years to see them again? They looked like they were enjoying themselves, so we'll hope not.