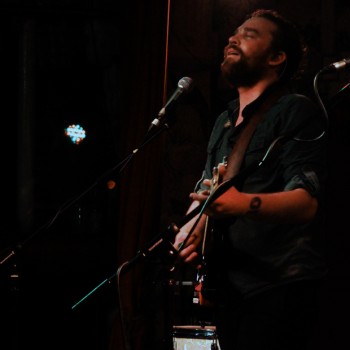 – THE DEAF INSTITUTE, MANCHESTER –
With a name like Frightened Rabbit, you could be mistaken that this bunch of Glaswegians are all about the self-indulgent, emo vibes; the type you have a good old cry to when your parents don't understand you or your homework's dead hard.
Frightened Rabbit are helping to fly the flag for big, epic Scottish rock. They formed in 2004 with front man/guitarist Scott Hutchinson and his drummer brother Grant. Bassist Billy Kennedy, guitarist Andy Monaghan and Gordon Skene on the keys completes the line-up. With three studio albums and an EP under their belt, their brand-new EP State Hospital, is the bands second release from their new, Atlantic Records signing.
Many have and will continue to compare the band to Biffy Clyro, which is an all too lazy and obvious connection. Frightened Rabbit's blend of deep, thumping indie rock, passionate lyrics and folky-tinged, gentle moments, are all delivered with a distinctive, Scottish twang. This has earned them a global, loyal following. About 260 of that dedicated fan base have packed into a sold-out Deaf Institute tonight. There's an anticipated excitement in the air, it could just be gig sweat already starting to waft up to the beams or because it's also international Talk Like A Pirate Day.
The crowd's a mixed bunch; there's old un's, young un's, slogan t-shirt wearing trendies and a front row of girls; who've probably been trying to save that spot for hours, holding wees in and avoiding the expensive bar.
As the pirate rum warms my belly, Frightened Rabbit take to the stage, amid a mixture of huge applause, woops and heckling. They kick-off tonight, straight into Modern Leper the lead track from Midnight Organ Fight, their second, hugely acclaimed 2008 masterpiece. It's a record full of songs about heartbreak, regret and love. Someone else's woe always makes for a top album.
As the excitable crowd lap up Scott's tales of sorrow, it's evident from this very first song, that the Rabbit boys know how to make a good tune. It's got the perfect, slow crawling couple of verses, leading up to a crescendo of unforgettable riffs and notable lyrics. Those sorts of words that regardless of the meaning, are spat out at just that right point, that makes it a no brainer to throw your hands in the air and mouth every word.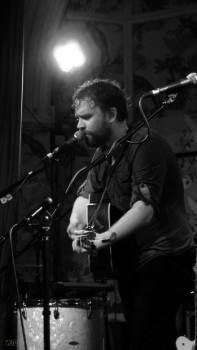 Everything's bouncing to the beat from the kick-off. Scott reaps the sing-a-long the crowd's got going on, "you guys are the hard core of the hard core!" A dam correct observation, this audience are die-hard Rabbit fans, as they again, mouth every word to the next song, Nothing Like You. 
Scott invites the audience to "grab a partner for dance" as the band begin Old Old Fashioned, another crowd pleaser, that starts with an acoustic guitar led intro, building into a full on barn dance, that hints in places to fellow-beardies Mumford and Sons. It ends with everyone apart from the drummer hammering the shit out of their guitars.
Keeping with Midnight Organ Fight, The Twist brings that familiar dense, gig perspiration into the air and we're only four songs in. With a break from the dancey numbers, Rabbit show-off their new EP's title track State Hospital.  It's drum-pounding-ly heavy and heartfelt. The crowd are just transfixed, hanging on every strong, Scottish sung lyric.
Showing a more commercial side is Swim Until You Can't See Land, from their last studio release The Winter of Mixed Drinks. As a kick drum's specially set up on stage for the number, I mistakenly think Scott's getting all pirate for the occasion. He explains how this Mancunian crowd are better than our Scottish cousins in Perth.  'Ye ar' turned out to be a very Glaswegian 'You Are'.
It's a safe track, but none the less sung with pure passion. As the chorus hits, two beefy blokes in front of me start hugging each other. This is bromance making music. The whole venue is singing along to every word, the Rabbits unashamedly milk the love by bashing out another intense climax of smashing drums and a stunning guitar solo. They bring it back once more for another, venue-wide, karaoke session.
Boxing Night, from the new EP is a song inspired by a failed romance at Christmas. Scott adds "I got an album out of it, I don't know what she got". These aren't just a 'play track after track' band, neither do they chat long monologues of prodigal shite between songs, it's all top, funny banter.
Square 9 is the only airing tonight of their debut album Sing the Greys, captured by a sea of mobile phone cameras, held high above heads. What once was a crisp, light blue denim shirt on Scott, is now a sweaty, dripping, dark blue skinny T.  Another trademark building, blinding finale ends with a noisy cocktail of woops and instruments. The band leave the stage.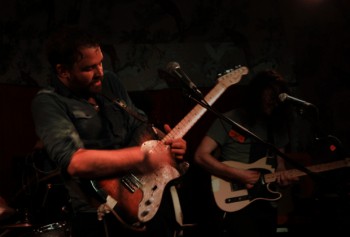 After a few traditional chants of "more!" and "encore!" just Scott returns for an acoustic rendition of Scottish Winds. At this point I'm well and truly swooning. Is it the super lyric-making, bearded boy with a guitar or just too much rum?
Scott walks to the front of the stage and waits for the room to fall to utter silence for some pre-song crowd training. We're asked to join in on the "woo's" in the utterly, beautiful Poke. Completely stripped down, with no mic and just his guitar, he belts out a bitter sweet, heart breaking ode to a former love.  It's the type of song you play on repeat when two months ago the love of your life, just "nipped out to get some milk".
That is, until the tone deaf crowd start with the "woo's", which tickles Scott and gets everyone in fits of laughter. "Thank you for making the last time I do this so special" he adds.
Another favourite from MOF, Good Arms Vs Bad Arms and there's a guy on the balcony arms spread, eyes closed, singing to the crowd like he's on his own private stage. The rest of the band re-join for yet another, grand finish.
Living in Colour proves that these guys are fully capable of flicking the switch to ebb on the rockier side of the indie genre. Even I'm wooping now. The Loneliness and the Scream sees The Deaf Institute rocking like I've never seen it before. Even the boring, seated dudes are flailing their arms around like the Secret Signal in Team America. The now token "woah woah woah's" continue from the crowd, long after the band have departed the stage.
Another encore! This band don't care that people have got homes to go to and I don't think anyone here is arsed about going back to their loved ones at this moment in time. Scott heads into sublime Keep Yourself Warm showing off his ability to hit the high notes, that get a blinding response and a final crowd chant of "It takes more than fucking someone to keep yourself warm."
The Rabbits once more, dangle a slow-burning, epic carrot right in the faces of the audience, as the rock-fuelled finish sends the crowd into a frenzy.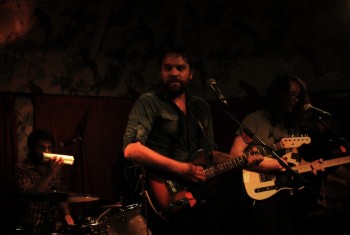 After a huge, 17 song set Frightened Rabbit have well and truly smashed it tonight. Death Cab for Cutie's Nick Harmer said of Frightened Rabbit's Midnight Organ Fight albums:
"It's lyrically perfect with words that hit you right in the heart. And coupled with Scott Hutchison's vocals, the whole thing just kills me."
Exactly my sentiments about tonight.  I'll drink to that. Ye-Arrrrrrrrr!
 Frightened Rabbit's new 'State Hospital EP' is out now.