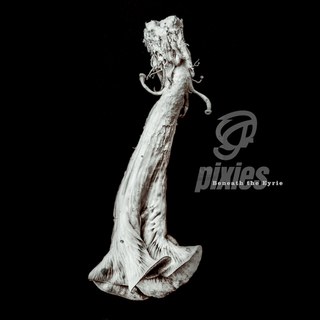 When the Pixies reformed back in 2004 I was leaping around like a deranged idiot with excitement, the gigs were great, then after a long wait, the comeback album 'Indie Cindy' was surprisingly good too, so fifteen years since reforming it seems like business as usual in terms of releasing new material, although no one expected the reunion to be as long as this or even as fruitful.  Three albums into their reunion (albeit now with bassist Paz Lenchantin on board instead of Kim Deal) Pixies show no sign of slowing down, and if anything, seem to have found a natural reinvigorated style to their song writing.
Tracks like 'In The Arms Of Mrs Mark Of Cain' are reminiscent of 'Bossanov'a era Pixies, slightly less visceral but with a sublime and intriguingly dark melody, before a Joey Santiago guitar solo lifts the whole thing skywards. There's still the themes of sci-fi, weird characters, and lovelorn tales all present and correct, and no on weaves a dark yet captivating tale in his lyrics quite like Black Francis.
There's the creepy and unnerving 'This Is My Fate' which whilst not being in yer face raucously Pixies, still possesses that uniquely dark Pixies quality, then there's the more gentile and harmonious side to them on 'Ready For Love' and 'Long Ryder 'plus the Spanish phrases return too on 'Los Surfers Muertos', which, whist it's lacks the adrenalized pace of 'Isla De Encanta', it still manages to pack a sedate dark punch. They still manage to unleash a ferocity like no other band around on songs like 'On Graveyard Hill' and 'St Nazaire' with Black Francis' amazing demented screams working well against the menacing riffs, whereas 'Bird Of Prey' sounds a bit like Leonard Cohen meets surf rock, a bizarre but brilliant combination.
They were never going to stray too far from their trademark sound, and in all honesty, would you really want them to? They do guitar rock like no other. Many bands try to copy their menace meets melody sounds but not many succeed. They've managed to carve out a sound which is uniquely theirs. It's gone beyond loud, quiet, loud, as their brilliant 2006 documentary alluded to, since their reformation they've managed to take their staple sound and ever so slightly mould it into new forms for each release.
Some may have doubted their longevity when they reformed, but despite the obvious line-up change, they're still sounding resolutely, well, Pixies like, and when they can sound as exciting as this, long may it continue.
Pixies: Beyond The Eyrie – Out Now (BMG)