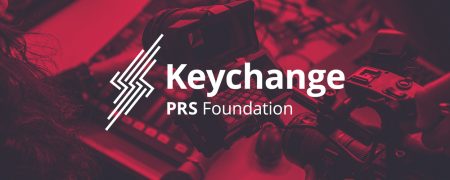 PRS Foundation's 'Keychange'; a collaborative European programme which aims to empower women to transform the music industry, has announced their 60 female artists and innovators for their ground-breaking programme spanning two years. Announced yesterday at Hamburg's Reeperbahn Festival, the successful participants will take part in a series of showcases, discussions, collaborations and a programme of creative labs at seven international festivals. Backed by an innovation fund to help test new projects and ideas, 'Keychange' will culminate with a final event in Brussels at the European Parliament in 2019, at which 'Keychange' partners will present a manifesto for change.
Reeperbahn Festival's 'Keychange' panel chaired by PRS Foundation CEO Vanessa Reed saw appearances from Garbage's Shirley Manson,  Reeperbahn Festival director Alex Schultz, and emerging UK rock artist Nadine Shah. Exploring how to empower those who are under-represented and how men and women can work together to accelerate change, before announcing Keychange's 60 successful participants.
So without further ado: Ten participants from six European countries – Sweden, Spain, Iceland, Germany, Estonia and the UK – will form a 60 strong network of female artists and innovators who will have opportunities to showcase and work together at leading industry festivals in Europe and in Canada. Artists including Scandinavian producers VAZ (Sweden), electronic mainstay Cora Novoa (Spain), rising indie stars Gurr (Germany),  in addition to a host of industry professionals including BBC Radio 1Xtra's Jamz Supernova (UK) plus artist managers Thea Lillepalu (Estonia), and María Rut Reynisdóttir (Iceland), are some of those successful applicants, who will have the opportunity to forge new and ambitious collaborations that will push the future development of the music industry and position women at the forefront of innovation.
On Keychange's successful participants, Vanessa Reed, Chief Executive of PRS Foundation said "Selecting the 60 participants from over 200 nominations was a really tough process for our partner festivals and we were extremely impressed by the diversity and quality of all the women who applied. The final list demonstrates the exceptional talent of the next generation of female artists and innovators and makes for a very exciting European network. I'm convinced that together these women will be a creative and entrepreneurial force to reckon with in the future."
Keychange aims to accelerate change and create a better, more inclusive music industry for present and future generations.
Full list of successful participants :
Sweden
GNUČČI
Pale Honey
TMRW
IMAN
VAZ
Anna Ingler
Theodora Nordqvist
Anna Christoffersson
Jenny Vaz
Malin Ingrid Johansson
Spain
Cora Novoa
BALA
Maïa Vidal
Mueveloreina
Brigitte Laverne
Rafaela Travisano
Rocio Saiz
Almudena Palacios
Julia Solana
Eva Sarasola
Iceland
Milkywhale
Hildur
Fever Dream
KRÍA
dj. flugvél og geimskip
Steinunn Thora Camilla Sigurdardottir
Melina Rathjen
María Rut Reynisdóttir
Anna Thorsteinsson
Hildur Maral
Germany
Kat Frankie
Gurr
AKUA NARU
JOSIN
Mogil
Katarina Becic
Sandira Blas
Claudia Schwarz
Mirca Lotz
Laura Dath-Lienenkämper
Estonia
Helena Põldma
HUNT
Kirke Karja Quartet
Mari Kalkun
Grete Paia
Liisi Voolaid
Thea Lillepalu
Merli Antsmaa
Natalie Mets
Silvia Urgas
UK
Violet Skies
Suzi Wu
Chagall*
Poppy Ajudha
Tawiah
Laura Kriefman
Jamz Supernova
Lynden Campbell
Andreea Magdalina
Nyah Clarke